Chelsea's Samuel Eto'o in the Sun: "I vowed I'd never play for Mourinho"
Unlike most of their rival newspapers who lead with Mesut Özil arrival at Arsenal on their backpages on Friday, the Sun have gone with a different story having scored an "Eto'o EXCLUSIVE".
The red-top serves up a slightly controversial headline, with their lead article roaring: I vowed I'd NEVER play for Mourinho – but now we're great pals.
Behind the headline are a handful of quotes from the Cameroonian international goalscorer, with Eto'o telling the Sun:
Before I played with him at Inter, our relationship was tense. I Even said I'd never play in a club where Jose is the coach. But I was wrong – and now he is my friend.
While the Sun's story is mildly interesting, the tabloid appear to have missed the opportunity to grill Eto'o on the far more interesting story that he once said that he'd never play for Chelsea.
Back in 2005, when Barcelona faced Chelsea in a bad-tempered Champions League tie, Eto'o famously ranted: I'd rather sell groundnuts in my village than to play for a pathetic team like Chelsea.
Staying with Eto'o, the African legend had his professionalism called into question this week when Brazilian superstar Roberto Carlos attacking the attacker's reputation. The former Anzhi Makhachkala team director revealed that the Cameroon striker interfered with his work at the Russian club, saying Eto'o had a "damaging" influence in Dagestan.
Carlos to Globo:
I've known Eto'o since I was 16, and from that time on he's always been a good guy who I've liked a lot. He's a good person, but there a part of him that thinks 'I, and not the group', which is really damaging. 
When a footballer, instead of playing, is interested in signing players who are his friends… it's confusing and strange. He did everything at Anzhi, except play football.  
With the arrival of Eto'o, with the values of everyone involved, I had some little problems in the dressing room and had to talk to the Russian players and explain why Eto'o was there.
However, a moment arrived when Eto'o thought to interfere with my work, to control the club, taking my position and that of Guus [Hiddink, the coach].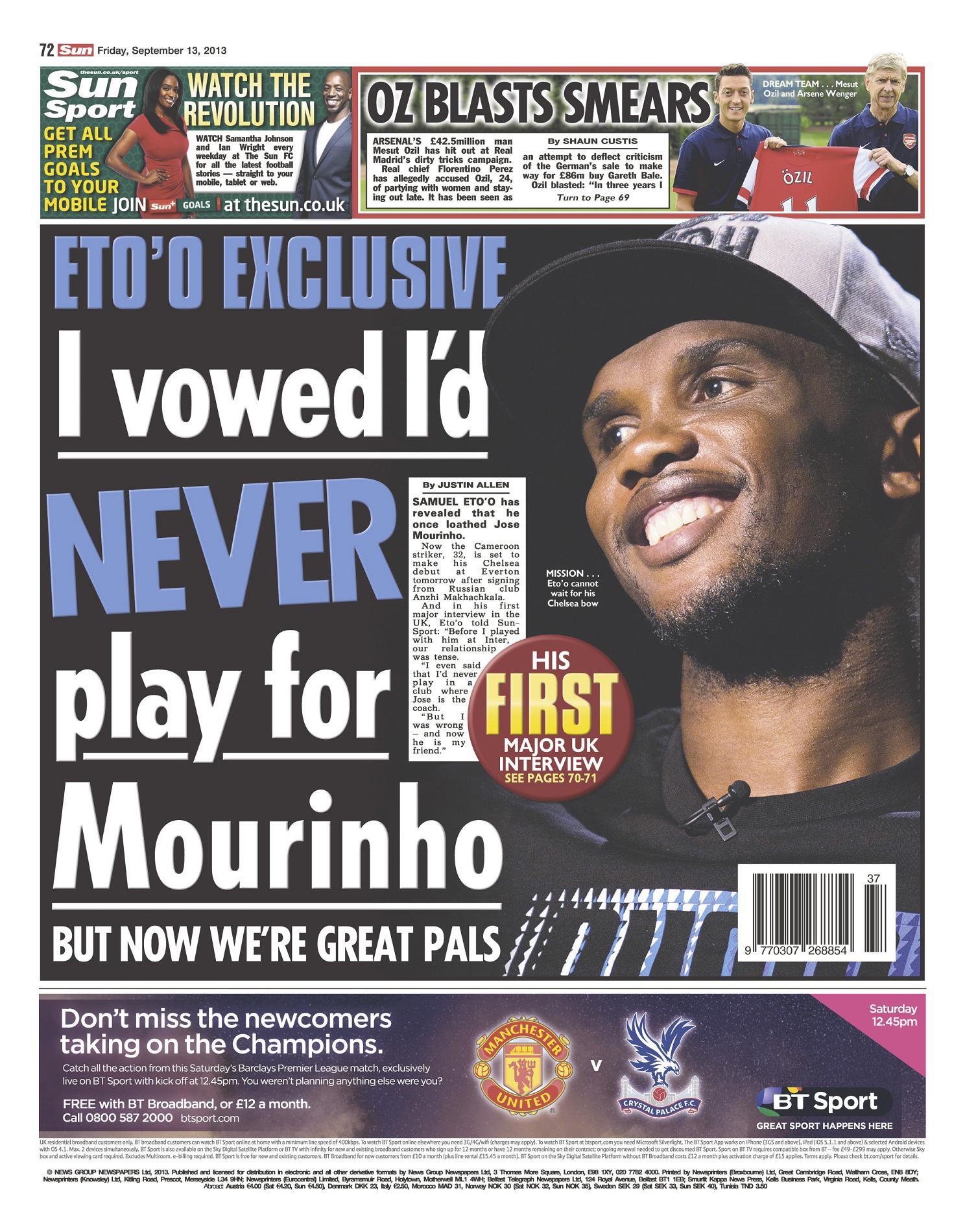 ---