Chelsea's Fernando Torres showed improvement against Sunderland but he still can't score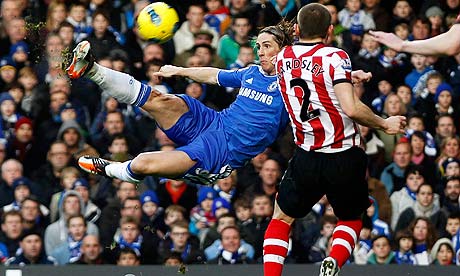 Torres has played 16 Premier League games this season, scored just twice, collected just two assists and has managed only 34 shots on target.
It's hardly the form of a world beater, nevertheless El Nino did have something to smile about following Chelsea's narrow win over Sunderland last weekend.
Almost a year since Torres completed his £50 million exit from Liverpool to Stamford Bridge, the Spaniard showed his prolific, predatory instincts are still lurking beneath the surface against the Black Cats.
Torres' shift against the Wearsiders had everything but a goal. The highlight of his performance came with an outstanding scissor kick that would surely have been remembered as one of the season's best goals but for the crossbar. The rebound was scored by Frank Lampard, and that was all AVB's men needed to pick up the three points.
But Torres showed more than that one flash of athleticism. The striker was denied two strong penalty appeals in the second half, while he caused havoc whenever he had the ball throughout the contest.
Enjoy Fernando Torres' impressive performance versus Sunderland.
Related link: MOTD highlights of Chelsea 1 – Sunderland 0.
Click here for more Premier League betting tips
---