Chelsea try to sign Diego Costa for £31.999m. If they pay the £32m buyout clause the cost rises to £45m+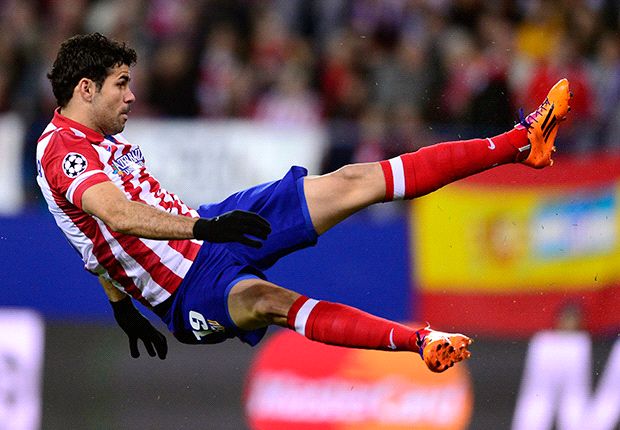 Why have Chelsea still not officially signed Diego Costa from Atletico Madrid?
For weeks now papers in both Spain and England have reported that Costa will swap to Vicente Calderon for Stamford Bridge this summer, with the commonly touted line being that the Blues will fork out £32m to get the deal done.
That fee relates to Costa's reported buyout clause at Atleti.
Now, however, an interesting set of updates have been released by sports lawyer Jake Cohen, aka @JakeFCohen, explaining that Chelsea are in fact still negotiating the deal with the Rojiblancos in order to save millions in taxes.
According to reports, if Chelsea can land the Sp-razilian striker for £31.999m, and avoid paying the buyout clause price, then the Pensioners will avoid taxes which could make the deal worth more than £45m in total.
Read the tweets on why Chelsea are trying very hard to save £100,000 in the Diego Costa deal below.
If Diego Costa goes to Chelsea via buyout clause, £32m could be £45m+ w taxes. Expect clubs to negotiate £31.999m transfer to avoid tax #cfc

— Jake Cohen (@JakeFCohen) June 7, 2014
Buyout clause taxes technically Costa's responsibility, but Chelsea will obviously foot the bill, and £ goes to Spanish gov't, not Atletico

— Jake Cohen (@JakeFCohen) June 7, 2014
@BlueNation8 it's just the nature of buyout clauses + Spanish tax law, no magic number

— Jake Cohen (@JakeFCohen) June 7, 2014
@DavidTReeves I'd be shocked if Atletico made Chelsea activate the clause, given relationship btw clubs regardless of where Courtois ends up

— Jake Cohen (@JakeFCohen) June 7, 2014
@complaints_dept @SeBlueLion taxes on profit/loss doesn't count, but taxes on wages do. Not sure how buyout clause taxes are classified

— Jake Cohen (@JakeFCohen) June 7, 2014
@mpbx3003 it depends on how contract is structured + could very well be an automatic release if certain sum is offered (no idea on details)

— Jake Cohen (@JakeFCohen) June 7, 2014
---
GAMBLING CAN BE ADDICTIVE, PLEASE PLAY RESPONSIBLY