Chelsea men Juan Cuadrado & Radamel Falcao slammed for woeful displays v Fiorentina [Best Tweets]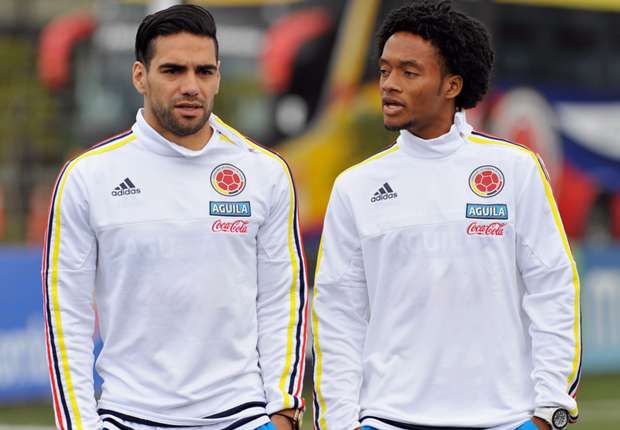 Chelsea have two Colombians in their ranks nowadays – Juan Cuadrado and Radamel Falcao.
Jose Mourinho splashed the cash on Juan Cuadrado in January and tonight he and his international teammate faced Fiorentina in Chelsea's final pre-season friendly.
Both he and season long loan signing Radamel Falcao were hauled off at 1-0 down in tonight's friendly after pretty abject performances.
Chelsea fans on social media were pretty angry and – not for the first time – Juan Cuadrado bared the brunt of the fans anger.
Spanish striker Diego Costa is doubtful for the opening day of the Premier League season game against Swansea City and both Loic Remy and Radamel Falcao have enjoyed pretty poor pre-seasons.
Falcao managed only four Premier League goals last season during his loan spell at Manchester United. Both he and Juan Cuadrado are yet to score in a Chelsea shirt.
We've collated some of the best tweets below.
Falcao looks awful. No pace, no sharpness, not even a hint that he might improve on his season with #mufc

— Will Tidey (@willtidey) August 5, 2015
Wonder if Falcao will come on for the second half.

— Chelsea Youth (@chelseayouth) August 5, 2015
Cuadrado's woeful 57 minute performance comes to an end…sadly looks no different to last season..Falcao off too

— Simon Johnson (@sjstandardsport) August 5, 2015
Victor Moses has been far better than Cuadrado in pre-season.

— Mourinholic (@Mourinholic) August 5, 2015
Cuadrado has had a great game – of Sudoku, since taking his place on the bench. The preceding 57 minutes – not so good.

— Dan Levene (@BluesChronicle) August 5, 2015
From Juan Mata, Kevin De Bruyne and Andre Schurrle to Cuadrado, Moses and Traore.

— Ad Wojtkowiak (@AdamWojtkowiak) August 5, 2015
If Mourinho can fix Falcao, start buying those Special One Sacred Heart candles because he clearly is Our Lord and Savior …

— Antö (@rossoAnto) August 5, 2015
I'm still trying to understand why we bought Cuadrado and sold Schurrle

— kieran (@kielawrence97) August 5, 2015
Remember when we decided to sign Cuadrado instead of Douglas Costa, yeah big mistake.

— Ozz (@ExcitingEden) August 5, 2015
Cuadrado needs one of these pic.twitter.com/miD4anQdfL

— WeAreChelseaFC (@WeAreChelseaFC) August 5, 2015
---