Chelsea keeper Petr Cech makes fun of Arsenal fan on Twitter over fake photo [Tweets]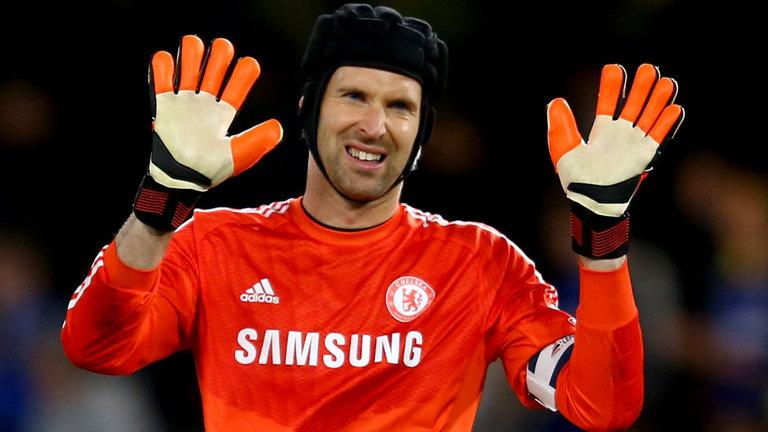 Chelsea goalkeeper Petr Cech is currently being heavily linked with a move to London rivals Arsenal.
The 33 year old legendary Czech stopper was active on Twitter tonight, replying to an Arsenal fan who photoshopped a fake Petr Cech tweet.
Cech used a monkey emoji to make fun of the Arsenal fan who faked a Cech tweet in which he slated Manchester United.
"@MazyMesut: Look what @PetrCech just tweeted before deleting. Unreal #Arsenal pic.twitter.com/vc0TTYRBAR" And you think people believe it

— Petr Cech (@PetrCech) June 10, 2015
Second in the pecking order at Stamford Bridge, Thibaut Courtois' understudy has reiterated his desire to leave in order to play first team football.
Arsenal are allegedly his first choice destination, whilst Manchester United and PSG have also registered interest.
Could this tweet scupper a potential move to Arsenal? We don't think so but plenty on Twitter did…
So close to Cech! We need to use our Twitter power to bring players in, not push them away ffs.

— Özil Left-Foot Flick (@SalingGonnerAFC) June 10, 2015
Ffs Arsenal twitter, act cool or you will ruin the Cech deal.

— Craig (@KoscielnyFC) June 10, 2015
Now Cech won't join us because some idiot photoshopped a fake tweet from him. Just great.

— Antti (@Laporttila) June 10, 2015
In tears when Cech announces he's going to United because Arsenal twitter annoying him. We deserve it tbh

— Reece (@Ozil_Ultra) June 10, 2015
Some of our fans will probably ruin Petr Cech's deal to Arsenal because of their comments and behavior on Twitter…

— Claude Wu (@claudewuAFC) June 10, 2015
Our nonce fans are gonna put Cech off joining us ffs

— Reece (@Ozil_Ultra) June 10, 2015
Banter if Cech ditches Arsenal because of a fake tweet

— De Gea is a snake (@Herrera_esque) June 10, 2015
Arsenal fans are trying their best to ruin the Cech deal. He will surely re-consider his decision after seeing all these trolls lol

— Team Ramzizou (@_HassanMuhammad) June 10, 2015
Arsenal fans are tweeting Cech nonsense already. The state of this fan base. He may not come just because of that for Christ Sake smh

— Frantz Paul (@LSN_Frantz) June 10, 2015
Yo if Cech doesn't come, I'm blaming MazyMesut

— JC. (@Bergstamp) June 10, 2015
---