Chelsea captain John Terry to play in Stiliyan Petrov Charity Match on Sunday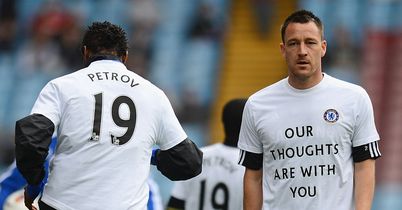 John Terry does not usually get too much good press, so this afternoon should see the Chelsea captain lauded by all and sundry for a fine gesture towards Stiliyan Petrov, right?!
Terry will be appearing at Celtic Park on Sunday for a Stiliyan XI against a Celtic XI to support Stiliyan Petrov's charities.
The former Celtic and Aston Villa midfielder retired from professional football in May and is in remission from Leukaemia.
Henrik Larsson and Neil Lennon will also be in the Celtic side whilst Dimitar Berbatov, Gareth Barry, Gabriel Agbonlayor and Paul Lambert are among those set to play in the same side as Terry.
Despite earning a reputation, rightly or wrongly, as one of the most loathsome characters in football, Stiliyan Petrov only has great things to say about JT.
Petrov: "Before I was ill I knew John only from ­shaking hands ­before ­kick-off in ­matches, and as a fierce ­competitor. We had also met and talked at the ­meetings the ­Premier League hold for ­captains before the start of each ­season. But from the ­moment the news came out about my illness he was one of the first to get in touch and he has ­carried on being ­supportive ever since. He doesn't ­always have an easy time with the fans, but I have seen a very different man to that image."
The Bulgarian added: "He has gone out of his way to encourage me at different times – always sending ­messages and texts while I was going through treatment, even though sometimes it might have been a month before I felt strong enough to return them. When I was planning this game he was the first to sign up. I rang and asked if he could take part and he just said: 'Tell me when and I'll be there. Who wouldn't want to play in the atmosphere of a sold-out Celtic Park?'"
---