Chelsea captain John Terry may agree a deal to join Roberto Mancini's Galatasaray in January [Sun]
With no football to report on as the international interlull gets very boring, the Sun may have resorted to making up a transfer lie on Wednesday.
The backpage of the red-top claims the Mr Chelsea, John Terry, may be about to quit Stamford Bridge for Turkey. The bold headline reads "Mancini in Terry swoop – Former City boss wants JT to agree a deal in Jan."
Behind the headline Geoff Sweet filled in the blanks as follows:
John Terry is wanted by Roberto Mancini at Turkish giants Galatasaray. Former Manchester City boss Mancini is will to match the Chelsea skipper's £150,000-a-week wages. The Turks believe Terry, whose Blues deal ends in the summer, could sign a pre-contract in January.
The Daily Mail's Matt Barlow has also discussed the potential of Terry moving to Turkey, and he has poured some cold water onto the deal. Barlow penned:
Since the return of Jose Mourinho, 32-year-old Terry has been restored as the mainstay of Chelsea's defence but the club have a policy of offering no more than a one-year contract extensions to any players over-30.
Both Ashley Cole and Frank Lampard signed one-year deals in the summer and will also be out of contract at the end of this season. The appeal of Galatasaray for Terry would be a long, lucrative deal, offering greater financial security… and the guarantee of Champions League football. It is hard to imagine, however, that he might turn his back on Mourinho if he was asked to stay.
A copy of the backpage of the the Sun can be seen below.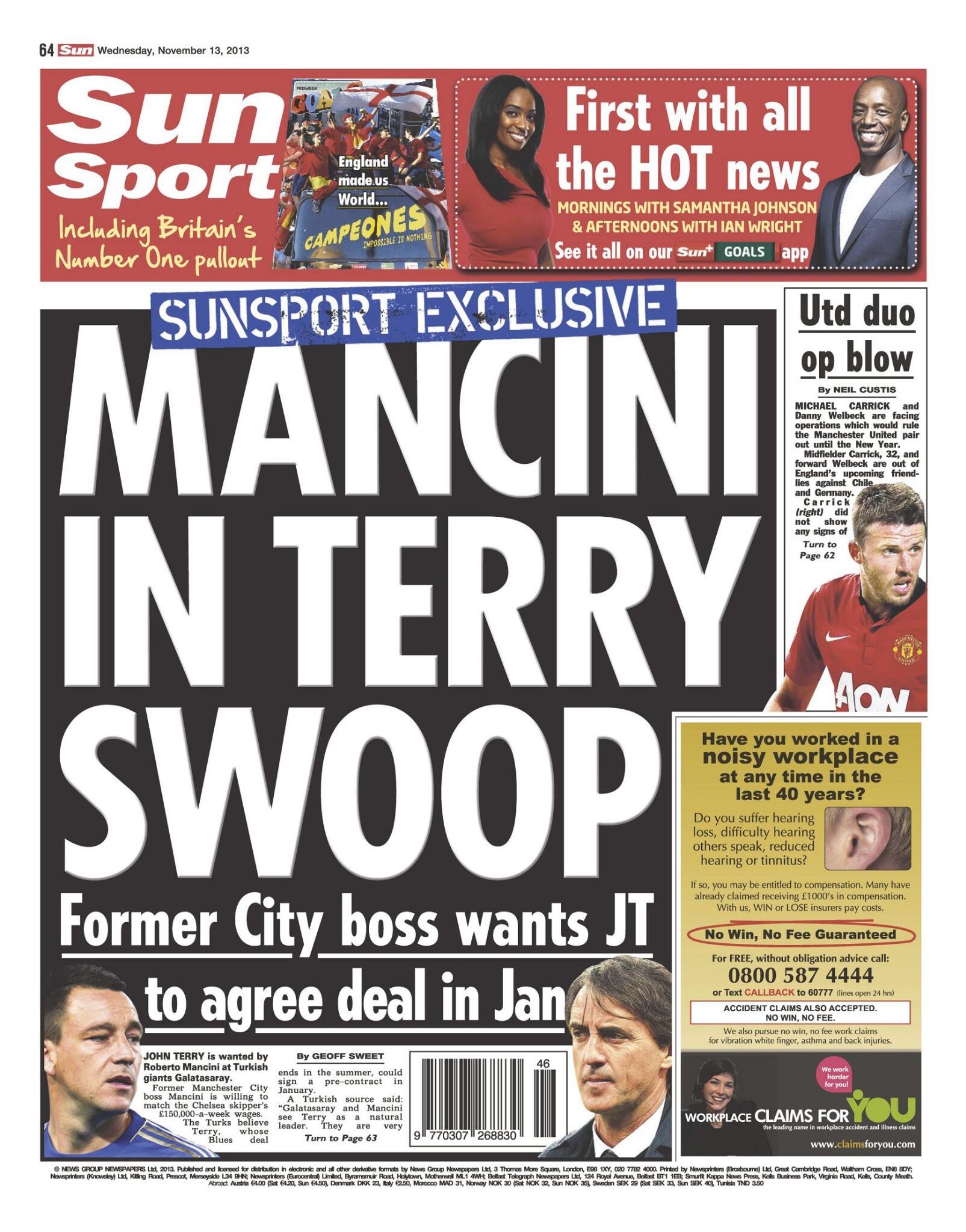 \
---