Chelsea boss Jose Mourinho slams the media for reporting his joke at Samuel Eto'o's expense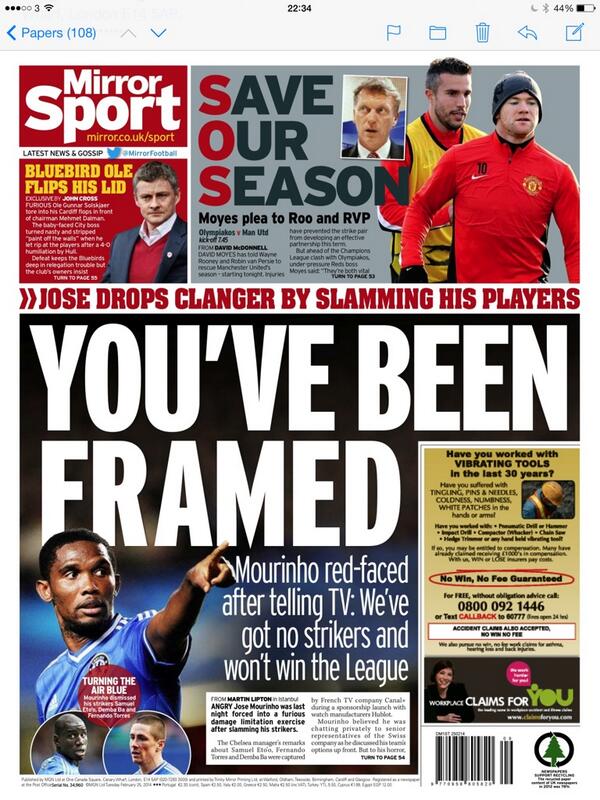 It all started on French TV on Sunday night.
Chelsea boss Jose Mourinho appeared on Canal+ at the weekend during which The Translator held a light-hearted interview in which he ruled out any moves for PSG's Zlatan Ibrahimovic and Edinson Cavani in the summer.
Canal+ also snagged a fly-on-the-wall exchange between Chelsea's boss and sponsors behind the scenes. During that segment, Mourinho made fun of striker Samuel Eto'o as well as stating an interest in Monaco forward Radamel Falcao.
Mourinho: "We don't have a goalscorer. [Samuel] Eto'o is 32, maybe even 35, I don't even know… Me, I have no centre-forward, and him [Radamel Falcao], he has no team. He plays in front of 3,000 spectators."
The Eto'o comments were then splurged on the backpage of the Mirror on Tuesday, and now Mourinho has vented.
During his presser ahead of the Champions League match with Galatasaray Mourinho took aim at the media.
Below are the best tweets reporting Jose Mourinho's outburst on Tuesday in Turkey.
Mourinho says Eto'o not upset 'as he once said I was the only manager in the world he'd never play for & a few years later he was at Inter'

— Sam Wallace (@SamWallaceIndy) February 25, 2014
Who should be more embarrassed: the media for printing a conversation caught by cameras, or a manager for slagging off his team to sponsors?

— Dan Silver (@DanSilverMirror) February 25, 2014
Mourinho: I look forward to every match…yes it looks like it Jose #CFC pic.twitter.com/lkUvz0I2ia

— Telegraph Football (@TeleFootball) February 25, 2014
So Mourinho is saying – I was wrong, I should apologize but there's no way I'm taking responsibility. Blame the other fella doing his job.

— LilBitSanogoFlick (@Fattcheeked) February 25, 2014
Best football betting tips & free bet offers
Click here for more Premier League betting tips
---