Cheeky Australian Man United fan bags Arturo Vidal autograph on his shirt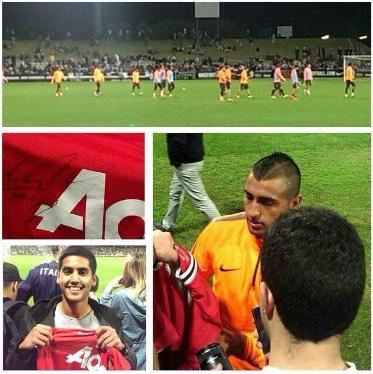 Juventus played a friendly on Sunday against an A-League All-Stars side in Sydney.
All eyes, much as they have been this summer, were on Arturo Vidal, who has been heavily linked with Manchester United in recent months.
Vidal did not play for Juventus in their 3-2 victory as he only returned from holiday after World Cup duty last week.
There also have to be doubts over whether Vidal is absolutely fully fit as he underwent knee surgery just weeks before the World Cup.
The latest reports coming from Italy suggest Manchester United and Vidal will have to make their minds up about a transfer within the next week.
One cheeky Australian Manchester United took matters into his own hands and bagged an autograph from Vidal on a red shirt.
To go along with this, there is also a rather amusing picture doing the rounds of what Vidal looked like when presented with a Manchester City shirt.
---