Charlie Adam and Peter Crouch panned for muted celebrations after Stoke goals v Liverpool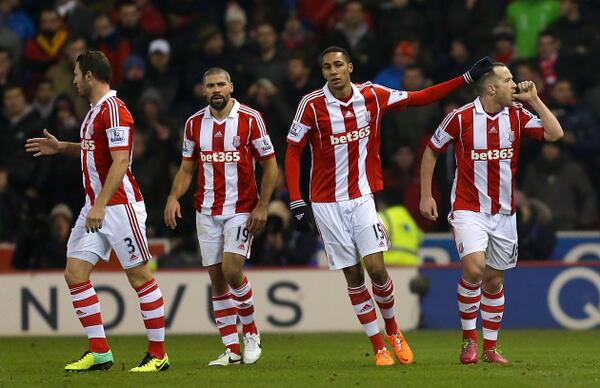 That escalated quickly!
Liverpool appeared to be cruising on 32 minutes at Stoke when Luis Suarez put them 2-0 up.
By half-time it was 2-2 as two former Liverpool players scored and barely celebrated.
Peter Crouch headed Stoke's first – which amazingly is the the first Stoke headed goal in the Premier League this season.
And, Charlie Adam made it 2-2 with a trademark (when he isn't assaulting opponents) rifled finish.
Both Crouch and Adam, who lest we forget, were sold by Liverpool, produced muted celebrations and the Twitterati did not like it…
Video of both goals and non celebrations below followed by the Best Tweets…
PHOTO "Sorry chaps!"…. pic.twitter.com/ruQfj7U9BI

— FourFourTwo (@FourFourTwo) January 12, 2014
Great game this…can't stand the muted celebration crap though!! "They sold you"

— Pete Colley (@petecolley) January 12, 2014
Charlie Adam didn't celebrate either. He knew the goal would delay his half-time Gü pudding by a minimum of 30 seconds.

— Nooruddean (@BeardedGenius) January 12, 2014
Charlie Adam with the #mutedcelebration. This is getting ridiculous. It's a fucking epidemic.

— Graham Ruthven (@grahamruthven) January 12, 2014
Big Peter Crouch showed his class by not celebrating his goal. The same can't be said of the never good enough for #LFC, Charlie Adams.

— Stace (@OuterStace_) January 12, 2014
Do Crouch or Adam believe that Liverpool fans would sigh and say shame if they scored an Own Goal?

— Jon (@CreamOnTop) January 12, 2014
Two Ex-Liverpool players have scored against them (crouch and Adams).. Now they gotta follow this and bring on Pennant!

— Kush (@Kush_afc) January 12, 2014
Buy peter crouch back

— Suhaimi (@Suhaimigotcoke) January 12, 2014
---