Can Robbie Keane put Liverpool on a level footing with Manchester United and Chelsea?
Quote of the Day: "If you want to be at the top of the table fighting for trophies, you need good players and big names. When you know you are very close, sometimes you need a little more quality, more experience, because last season we had a lot of draws that maybe with more experience we could have won. That's one of the reasons we are looking for players with quality who are settled down in the Premier League. We can play 4-4-2 with Keane and Torres or someone, or 4-2-3-1 and Keane can play on the right or on the left or as a second striker. It won't be a problem. It will be important for Torres in his second season to have another striker who can score goals, like Kuyt, Gerrard or Babel and now Keane." – Rafa Benitez.
Runner-up: "I need to give more chances to Malouda because, last season, he didn't play in the same role as he had done at Lyon. I want Malouda the same as he was in Lyon, flying down the wing and getting forward like he did with France with [Franck] Ribéry, shooting and scoring goals. He was wasted last season. Now it's a time for me to test the players. I'm seeing if we should play 4-4-2 or 4-3-3, or which position is best for each player, or whether some players would do better in some games or others. These are practice games but the players are trying their best for Chelsea and also for themselves. After that I'll decide… Lampard is here with us, now and tomorrow. After tomorrow, after one year, after two years, 10 years, I don't know. But today he is Chelsea." – Felipe Scolari.
Today's overview: The two feature stories from yesterday – Liverpool's capture of Robbie Keane, and Joey Barton's early release from prison – continue to be the main focus this Wednesday.
The Guardian's sportsblog wonders whether Robbie Keane can make Liverpool into title challengers and Ian Herbert looks at the tactical questions thrown up by Robbie Keane's move to Anfield. From Spurs' perspective, Sam Wallace argues that Luka Modric must step-up, while James Ducker and Gary Jacob report that David Bentley is on his way to White Hart Lane to add extra attacking depth.
Shifting onto the Joey Barton affair, Barney Ronay vents his frustration at the fact that while "Barton's crime was unpleasant enough. The fallout from his release tells us something equally grim about the industry in which he works." Playing the blame-game, Michael Walker is quick to point out that Kevin Keegan is the main reason why Barton remains at the Toon, Rob Hughes acknowledges the "considerable fiscal price for Newcastle" in letting Barton leave, and George Caulkin tries to calm people down by reporting that Nike have terminated their contract with Barton.
In the best of the rest, Jeremy Wilson looks at the impact of Deco since his arrival at Chelsea, John Nicholson comes out in favour of Team GB, Paul Parker discusses the merits of overseas pre-season tours, and David Lacey argues that George Best's imagination and skill made him the UK's greatest player of the last 50 years.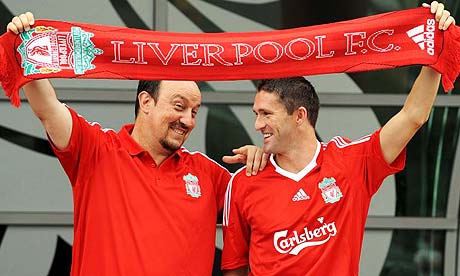 The Guardian's sportsblog wonders whether Robbie Keane can make Liverpool into title challengers. "Liverpool spent £20.3m to bring Keane to Anfield and the implication is clear: Rafael Benítez views him as the difference between another fourth-place finish and a serious tilt at the title… But will his presence really be enough to put Liverpool on a level footing with Manchester United and Chelsea? The Inter owner Massimo Moratti once said that Keane has the 'perfect game', but former Liverpool player Mark Lawrenson was sceptical, accusing him of being 'streaky' and only scoring goals in patches. Is Keane prolific enough to take up the slack if Torres were to get injured? Benítez may force Keane to play out wide in his preferred 4-2-3-1, rather than playing off a target man as he did at Tottenham. If so, can he be as effective from such a position?"
Ian Herbert also looks at the tactical questions thrown up by Robbie Keane's move to Anfield in the Independent. "Now comes the difficult part. Fitting into a system in which either he or Steven Gerrard will seemingly have to yield up their preferred offensive central role. Benitez, whose capacity for delivering square pegs into round holes knew no bounds at times last season, said he has not decided how to deploy the two of them, despite the £19m outlay – rising to a possible £20.3m with add-ons – for Keane."
Sam Wallace (Independent) argues that with Robbie Keane gone and Dimitar Berbatov expected to follow, Luka Modric must step-up. "Modric said that he would be happy to slot into the role vacated by Keane just behind the main striker… Confronted with the prospect of playing in such a physically demanding league, Modric was too polite to point out how he ran England's midfield ragged at Wembley in November without any problems. Instead he told the story again of his football apprenticeship as a teenager in Bosnia where he was loaned to the club Zrinjski Mostar. 'In Bosnia, the game is very rough, referees do not spare you,' he said. 'So there are no more surprises waiting for me, that is why I know I will be able to play in the English league.'"
The Times' tag-team of James Ducker and Gary Jacob report on Spurs' imminent capture of David Bentley. "The transfer merry-go-round will gather momentum today with Tottenham Hotspur expected to complete the signing of David Bentley… The departure of Bentley will come as a blow to Blackburn, who have lost Brad Friedel, the goalkeeper, to Aston Villa, after Mark Hughes left as manager, but club sources are adamant that other high-profile names, notably Roque Santa Cruz, will stay."
Barney Ronay (Guardian) writes a short, sharp article venting at Joey Barton's strong contractual position post-prison. "Vague talk of a pay cut aside – [Newcastle have] barely tried to sack Barton at all. In part this is because Barton cost £5.8m and Newcastle United is a plc: you don't just chuck expensive assets away. Mainly, however, it seems to have a lot to do with the fact that rival Premier League clubs have been sniffing around trying to snap up the ex-con midfielder on the cheap. Barton's crime was unpleasant enough. The fallout from his release tells us something equally grim about the industry in which he works."
The decision to keep Joey Barton at Newcastle was down to Kevin Keegan, so says Michael Walker (Independent). "It was Ashley's intention to punish Barton severely… but that option was less likely once Keegan had spoken of rehabilitation. Had Newcastle announced the termination of Barton's contract yesterday, Keegan would have been publicly embarrassed. So a fragile compromise has been reached and does little to diminish the sense of tension surrounding the Tyneside club."
Rob Hughes (IHT) offers his pragmatic analysis of the Barton situation. "We need to be honest and acknowledge that sport at this level is a mighty business – and that while there is a gut reaction to remove Barton from the opportunity to serve society as a role model to kids, there is also a considerable fiscal price for Newcastle… Whether Barton's talent is worth it is a qualitative judgement. Whether his temperament deserves another chance is also up for debate."
George Caulkin (The Times) tries to show that Barton has been financially punished, despite keeping his job. "Barton is unlikely to be paid any bonuses this season and Nike has announced that it has cancelled a £40,000-a-year boot deal with him. He is unlikely to elicit much sympathy, but Barton's associates have pointed out that he has been teetotal since the turn of 2008. When he spent nearly a month in the care of the Sporting Chance this year, he paid for his treatment as well as the daily helicopter journeys from the Hampshire clinic to training on Tyneside. Fined by the club over the incident in Liverpool city centre on December 27, he was not paid during his spell behind bars. The Times can reveal that in the intervening months Barton has made a £25,000 donation to the Tamsin Gulvin Fund – a charity established to support people who have addiction problems and no financial backing – of which he is patron."
Jeremy Wilson (Telegraph) looks at the impact of Deco since his arrival at Chelsea. "It appears significant that Deco and Frank Lampard have started in unison together in every game so far and, while Michael Ballack will feature in Russia, the new-look midfield already looks well-balanced. Indeed, while there was initially a theory that Deco's arrival would hasten the departure of Lampard, the initial signs are that he could instead help push the England midfielder's game to greater heights. Joe Cole has described Deco as the playmaker Chelsea have lacked since the departure of Eidur Gudjohnsen, and Scolari regards the double Champions League winner as someone who will inspire a collective improvement."
Swimming against the tide of public opinion, John Nicholson (Football365) comes out in favour of Team GB. "We are a unique national construct. So unique we even have two different names; United Kingdom and Great Britain. We are a country comprised of other countries; a work in progress and in truth, that's what makes us great as a nation. We're this big social, national and cultural experiment. It's something that makes us different from other European countries and as such we should be celebrating it on the biggest sporting stage by competing as a nation; as the UK… It is the time for a UK national football team. As John Lennon once almost wrote, come together, right now, over football."
Eurosport's Paul Parker discusses the merits of overseas pre-season tours. "For me, tours to far-flung places represent somewhat of a double-edged sword. On one hand, the need to expand a club's global brand is evident, considering the sheer amount of 'untapped' support in countries like South Africa and China – and the money that can be gleaned from those places. But on the other hand, long-haul flights to far-away countries are far from ideal preparation for players ahead of a long and draining new Premier League campaign. Such trips serve the club, and the club only."
George Best's imagination and skill made him the UK's greatest player of the last 50 years, argues David Lacey (Guardian). "When Bob Bishop, United's scout in Belfast, telegrammed Matt Busby saying 'I think I've found you a genius', he was not exaggerating. The 15-year-old Best had already been rejected by Glentoran as being 'too small and too light' but Busby knew quality when he saw it. From the moment Best made his first appearance for United at 17, playing against West Bromwich Albion in September 1963, defenders knew they had a problem."
Best football betting tips & free bet offers
Click here for more Premier League betting tips
---