Brazilian coach accused of calling female lino 'hot chick' after being sent off [Video]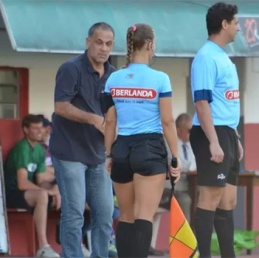 Celso Teixeira, coach of Brazilian side Juventus de Santa Catarina, is in hot water over an alleged sexist remark made at a female lino last week.
After being sent off in a Catarinense championship game, female lino Maira Americano Labes he remarked she was 'gostoso', a 'hot chick', more or less, in English.
Ms Labes says she heard the remark but was too concentrated on the game to take notice, but says she took no offence, that the remark was made in the heat of the moment.
Teixeira claims he's been framed, saying 'This is a joke. From the moment she walked onto the pitch in that uniform, there were insults coming down from the stands the whole time. I'm sure someone called here a 'hot chick', but it wasn't me.
Maria added on Instagram, 'Beauty should pass unnoticed. I'd like for the day to come for women to be recognized for their work just like men.'
Watch the clip of Teixeira being sent off below, while the picture above doesn't paint him in the best light.
Click here for more Premier League betting tips
---