Bosnia-Herzegovina name World Cup squad: Only 2 strikers & include the manager's nephew!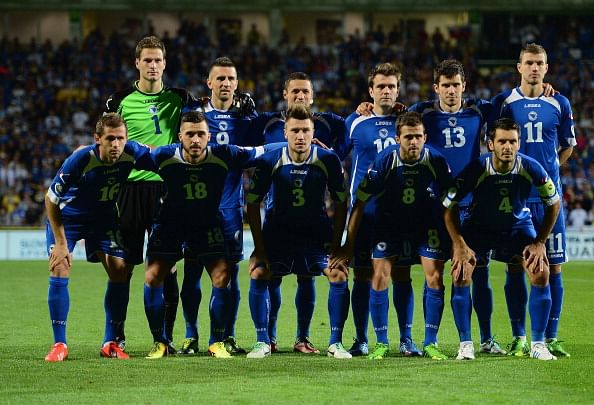 Whilst we are under 40 days to go until the World Cup, Bosnia-Herzegovina become the first team, as far as we are aware, to name their squad for the World Cup.
And, there are a few surprises, as outlined in the Tweets below from Bosnian football freelance journalist Saša Ibrulj.
Bosnia-Herzegovina coach Safet Susic has named just two strikers in his side and will be praying that Edin Dzeko does not pick up an injury as Manchester City bid to win the Premier League title in the final week of the season.
The other headline pick is Tino Sven – a midfielder from Hajduk Split – who is the son of the former Yugoslavia international Sead Sušić and nephew of coach Safet Sušić…
Bosnia-Herzegovina are in Group F with Argentina, Iran and Nigeria.
A whole host of Tweets on the Bosnia-Herzegovina squad are below.
Safet Susic just named his squad for the World cup in Brazil, no big surprises apart from Muhamed Besic who returns to the team.

— Saša Ibrulj (@sasaibrulj) May 5, 2014
GK: Begovic, Fejzic, Avdukic. DEF: Spahić, Kolašinac, Vranješ, Zukanović, Bičakčić, Mujdža, Šunjić.

— Saša Ibrulj (@sasaibrulj) May 5, 2014
MF: Salihovic, Pjanic, Ibricic, Hajrovic, Medunjanin, Lulic, Vrsajevic, Misimovic, Visca, Besic, Susic. FW: Dzeko, Ibisevic.

— Saša Ibrulj (@sasaibrulj) May 5, 2014
I missed 24th player, that is supposed to be Anel Hadzic.

— Saša Ibrulj (@sasaibrulj) May 5, 2014
It sounds completely insane, but Bosnia and Herzegovina will travel to the World Cup with only two attackers in their roster.

— Saša Ibrulj (@sasaibrulj) May 5, 2014
What concerns the most is the fact that Susic played both Dzeko and Ibisevic in every qualifying match. What´s plan B?!

— Saša Ibrulj (@sasaibrulj) May 5, 2014
Yes, we have only 2 attackers, but do not expect us to park the bus. With no proper DMF in the list, that is just impossible.

— Saša Ibrulj (@sasaibrulj) May 5, 2014
However, Susic´s list once again proved how unbalanced is Bosnian football team in this moment.

— Saša Ibrulj (@sasaibrulj) May 5, 2014
Susic called his nephew Tino Sven who is in a terrible form, plays in Cro and has 1 cap. Great move to improve the atmosphere in the team.

— Saša Ibrulj (@sasaibrulj) May 5, 2014
In any case, we always knew that Bosnia depends on 8-9 players and that they have no proper alternatives.

— Saša Ibrulj (@sasaibrulj) May 5, 2014
---