Book Review & Competition: Jonathan Wilson's The Outsider: A History Of The Goalkeeper
Review of The Outsider : A History Of The Goalkeeper
By Paul Morrissey – Follow on Twitter here
"Not in!"
As we all remember from our earliest street football memories, getting stuck between the nets as the 'funk-stick' is the last place you want to find yourself.
That feeling of angst, dread, that latent fear of being to blame for every goal, was at the forefront of your mind with the coming of every cross, every shot, every through ball.
And after reading Jonathan Wilson's brilliant history of the goalkeeper, you'll realise that professionalism and success often do little to quell that fear in even the best netminders.
Wilson traces the evolution of the keeper from the very beginning, when there wasn't even a keeper to speak of; the last man back was a mere fag (junior boy in British public schools).
As the position gradually became defined so too did the characteristics that are a constant throughout : different, marginal, thinkers, and in extreme cases, famous and published intellectuals.
As Wilson is keen to stress, it's hard to know how to attribute the cause and effect (did the position make them become different, or were they naturally drawn to its difference?).
Wilson is well placed to answer the question, as aside from being one of the game's most accomplished commentators, he himself was a youth hockey goalkeeper.
Goalkeepers Are Different
It's a fascinating journey through time and place, as Wilson compares the cultural differences owing to the varying standing of the goalkeeper from country to country; in Russia he is the deeply respected and revered lone wolf; in Brazil and Scotland a hapless clown-like figure of ridicule (stereotypically).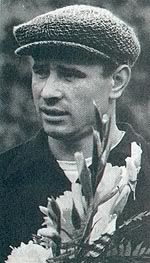 Wilson deftly uses the relevant literature and art (which required a staggering amount of research) to highlight and explain his reasoning, from the bleak Soviet play Vratar Respubliki to German film Goalkeeper's Fear Of The Penalty.
A certain existential sadness runs through it, as not only were they marginalised – barely tolerated even in the earliest stages; all too often they met with ignominious ends, eking out a life after football of penury, misery and shame, forced often into morally prostituting themselves with 'Beat The Goalkeeper' novelty acts on the beach.
And that was the fortunate ones who'd finished their careers unscathed; the invalids invariably found solace in the ale.
As Wilson has proven in both Inverting The Pyramid and Behind The Curtain: Travels in Eastern European Football, not to mention his Guardian writing, he is adept and keen to infuse politics, culture, and philosophy where relevant in his analysis of football.
This is a pretty ambitious task given the subject matter, but he pulls it off largely to great effect,  even managing to neatly fit some anthropology in there. One particular passage on Brazil's military dictatorship felt like an overdose though, as a discussion on infant mortality rates, coup d'etats and social reforms digresses somewhat from the main man – our hero between the sticks. 
The real highlight comes with his in-depth analysis of the reintegration of the keeper from marginal to pivotal team member, with the conception of the sweeper keeper by the Cruyff/Michels Dutch school, culminating in today's best exponent, Victor Valdes and the Spanish school.
In between Wilson introduces just about every character and his idiosyncrasies whose  kept goal through the ages, from William 'Fatty' Foulkes to Hugo 'El Loco' Gatti.
What you realise here is the level of ignorance and misunderstanding that prevails even today concerning the Number 1 (e.g. Mancini telling Hart to shut up and stick to saving shots).
As Wilson goes to great lengths to explain, there are distinct styles and schools of goalkeeping that can have a huge impact on the way a team plays, and ultimately on how good it can be.
The Outsider : A History Of The Goalkeeper is a truly fantastic read – I'd even go so far as to say Wilson's best work yet – that will leave you watching the goalkeeper that bit closer from now on for clues to school and style.
And paying him the respect he deserves as Wilson has so wonderfully done with this historical homage.
*********************************************************************************************************************
To win a copy of Jonathan Wilson's The Outsider: A History Of The Goalkeeper, just answer this simple question and send to 101greatgoals@gmail.com:
Who is the only goalkeeper to have won the Ballon d'Or?
a) David De Gea
b) Lev Yashin
c) Antonio Adan
---
GAMBLING CAN BE ADDICTIVE, PLEASE PLAY RESPONSIBLY