Book review & competition: Jonathan Wilson's Brian Clough epic: "Nobody Ever Says Thank You"
To win a copy of "Nobody Ever Says Thank You" simply answer the following question:
Which club does Brian Clough's son Nigel now manage?
Send answers to our Twitter or Facebook accounts or our email, 101greatgoals@gmail.com.
***
Jonathan Wilson's highly anticipated Brian Clough biography "Nobody Ever Says Thank You" is a tour de force of football literature. Its length, its sheer breadth of information, along with its esoteric content, combine to form a book that demands a lot of the reader, but that provides great entertainment in return for that investment.
First to the length. 550 pages is long by biography standards, if not exceptionally. Even so, the somewhat sombre tone means its far from an effortless page-turner; it takes a certain amount of effort to work through the five equally divided sections of Clough's life and times.
As to the tone, compared with other Cloughian pieces, such as The Damned United and Provided You Don't Kiss Me, it's a little lacking in emotion. This is fully understandable, of course, and presumably intentional: unlike the aforementioned books, this is a biography, not fiction nor a personal account, and hence has a certain rigidity to hold to.
Even still, for a story laced with alcohol, it feels incongruously sober; there was perhaps scope for a stronger dose of humour. Wilson does have this more humorous side to his writing, as demonstrated with Behind The Curtain.
This "cold" tone is particularly prevalent during the detailing of the most historic moments of Clough's legacy: the Derby title win and the back-to-back European Cups with Forest. They are afforded little extra in the way of drama nor emotion; these three games are almost stumbled upon like any other, which feels somewhat hollow. Strangely, a UEFA Cup tie with Celtic in the mid-80s is provided the dramatic introduction it merits, which only leaves one wondering why earlier triumphs were so routinely described.
What it lacks, then, in humour and emotion, it makes up for in analytical depth. Wilson uses his famed tactical acumen to analyse the system and style played by Clough's Derby County and Notts Forest. Debunking misconceptions is a common thread running through the book and this is continued here, as Wilson convincingly challenges the nostalgic notion that Clough's teams played the beautiful football that he liked to espouse.
The anecdotes are relayed with the regularity of a raconteur, and Wilson has gone to impressive lengths to get to the bottom of some of the more outlandishly tall tales relating to Ol' Big 'Ead.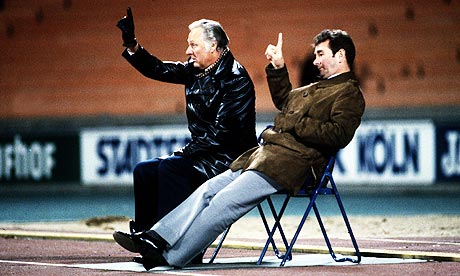 Though many are ousted as embellished lore by the man himself, just as many are backed up by Wilson, putting criticism of other Cloughian literature into perspective (he really did barge into a board room and say "Ive come to buy your full-back," for example).
The Damned United (book), for all the opprobrium levelled at its loose approach to veracity, was probably not as mischievous as many believe: if David Peace exaggerated Clough's drinking, we're really splitting hairs, as Wilson presents the plain truth of the extent of the alcoholism.
That's really the aim of the book: to strip away the romanticism of the Clough myth, in which Duncan Hamilton (Provided You Don't Kiss Me) clearly rejoiced, and to present the contradictions, indeed the hypocritical wont of the man. Until now, the Clough story as presented in these books (and, it goes, without saying, his own pair of auto-biographies), has been largely lopsided towards the positive and the romantic; Wilson's is almost perfectly weighted, straight from the Professor Green school of honesty: all that is good, all that is bad; all that is.
The Damned United (film) centred around the supposed bonhomie that existed between Clough and Taylor, the notion that one needed the other merely to survive like some kind of management Minority Report; in fact it skirted close to the homo-erotic. Wilson emphatically disproves this prevailing theory, while also presenting the more realistic, if less enchanting, Machiavellian dynamic the pair used to play off each other.
The black-and-white cover, with a young and handsome Clough reclining in his chair, cigarette smoke rising around him, captures the man in his pomp; you could seamlessly supplant the image on the cover of Goodfellas. With the demise of "the book" perpetually around the corner, such a slick cover is a reminder of the intangible value a book will always hold over an e-book. To have Ol' Big Ead sat proudly on the bookshelf, surveying all around him, on the cusp of unleashing a characteristic "Now you listen t'me, young man! Good lad;" you can't put a price on that.
By the end, you may feel as though you've "shot it" (to borrow Peter Taylor's ever-hilarious turn of phrase; "to be spent," "over the hill"), but the reward of a meticulously guided journey through one of the great football careers is worth it.
Nobody Ever Says Thank You is a book real football people should most certainly be grateful for.
Best football betting tips & free bet offers
Click here for more Premier League betting tips
---