#BlameEverton trends on Twitter after Liverpool fans get upset over Man City win [Best Tweets]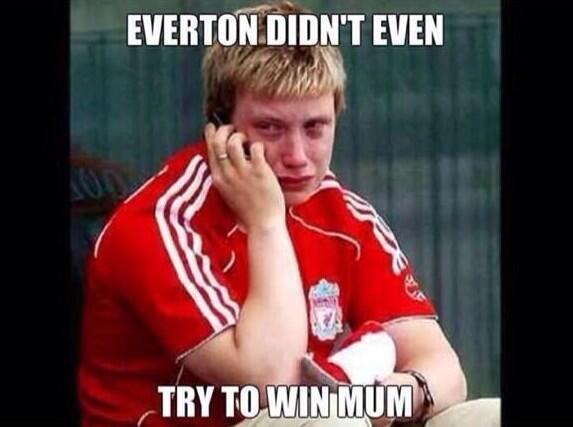 As well as "Happy Star Wars" (May the 4th be with you…) one of the top trends on Twitter on Sunday morning was #BlameEverton.
It comes just hours after Everton fans were not too upset to see their side lose at home to Manchester City in one of the final Premier League games of the season.
Manchester City's victory means they go top for the first time since February and unless there is an obscene turnaround in goal difference, Manuel Pellegrini's side should win the Premier League title with victories over Aston Villa and Manchester City.
So, Everton fans could console themselves with the thought that their side had battled hard but failed to beat City and hand the title to near neighbours Liverpool.
But, supporters of Brendan Rodgers' side have watched the league title slip out of their grasp with the 2-0 home defeat to Chelsea and are understandably upset that Everton did not put in much effort.
Best of the Twitter reaction below….
Lost your job as a steward at the victory parade? #BlameEverton

— Jonesy (@Beechside) May 4, 2014
Have you slipped at a critial moment…. lost your dignity? Cant claim compensation? #Blameeverton

— Everton Fans (@Fenn08) May 4, 2014
Sorry not sorry. #BlameEverton pic.twitter.com/w44U58T0kk

— Beth (@BethMeadows27) May 4, 2014
Had an accident that wasn't your fault ? #BlameEverton pic.twitter.com/EBA4fK09Td

— BoyzoneArmy (@BoyzoneArmy) May 4, 2014
This is why Liverpool won't win the league! #BlameEverton pic.twitter.com/Sduwmo6CtR

— Alex Young (@AlexYoungie) May 4, 2014
Crap weather today #blameeverton

— GrandOldTeam.com (@grandoldteam) May 4, 2014
The batteries have gone in my LFC season ticket #blameEverton pic.twitter.com/cfiRpj0bKV

— TRABS (@TrimmTrabs) May 4, 2014
It's all going off in the Ukraine #BlameEverton

— Trish1878 (@Azzurri1878) May 4, 2014
Liverpool paid HOW MUCH for Andy Carroll!?!?! Jesus. #BlameEverton

— Tony ¯\_(ツ)_/¯ (@TonyS_UK) May 4, 2014
Liverpool have lost 6 games in the league this season #BlameEverton

— Graham Travis (@GrahamTravis1) May 4, 2014
#BlameEverton pic.twitter.com/V1OIRGdCaU

— TheEvertonForum.com (@TheEFCForum) May 4, 2014
---