Bizarre! Lazio president Claudio Lotito receives phone call from angry fan during presser [Video w/translation]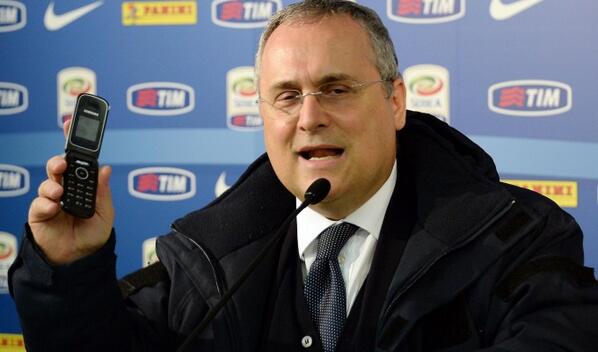 Rome club Lazio sold one of their best players, Hernanes, to Inter Milan towards the end of the January transfer window for around €15m.
The Lazio fans are rather unhappy at the sale, with club owner and president Claudio Lotito claiming he has received numerous death threats in the past days.
Lazio Ultras have a 'passionate' reputation and in Lotito's press conference today a bizarre incident occurred.
Our Italian correspondent Elan tells us that Lotito said that he gets 'between 50-80 calls a day' from angry fans.
Elan, who kindly translated the press conference, reports that the fan who calls Lotito in the presser tells the president to leave ASAP.
"What do they lead to, all these threats on the phone? I'm not joking… it always comes to this, every day. Then the calls get recorded… Yesterday, I received at least 50, 70, 80 death threats. It's not a problem. But the problem is that they mess me around like this without knowing me, and eventually I become someone who having previously managed things even with a measure of sentiment, then becomes very cold and irrational.
(On phone) 'Yes, yes, who is it? A Lazio fan, very good. I have to leave Lazio…right, I have to leave Lazio as soon as possible? Why don't you tell me your name? 'oh my god, die'… (to press) okay, it's a nutter. You see? This is the problem. This is what the situation's like.
"What can I do? Because in life, one has to make choices. If you live in that context, you have to have the courage to make them/change them. And to fight. Because otherwise, you become, like everyone else…there are choices.
"You can be a spectator, an extra or a protagonist, if you want to play a part and you want to change the system, you can't do nothing in the face of this blackmail, this coercion, these demands."
The most bizarre thing about this whole episode? Claudio Lotito doesn't own a smartphone!
---