Best tweets as Man City's Yaya Toure fortunate to escape FA punishment for kick in the back v Norwich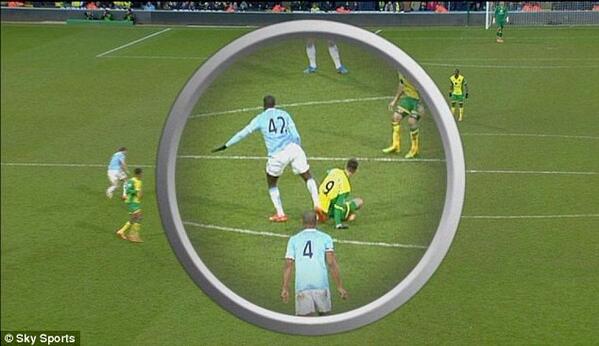 Manchester City star midfielder Yaya Toure can count himself lucky after escaping FA punishment for a kick in the back to Norwich striker Ricky Van Wolfswinkel.
Craig Bellamy was charged with violent conduct for his punch during Swansea v Cardiff.
Twitter was a little bemused by the FA's lack of action regarding the Yaya Toure incident.
The Ivorian midfielder had, earlier this season, got away with a stamp on Olivier Giroud's ankle.
Some of the best tweets can be seen below:
No charge for Yaya Toure? But … I thought … Intent … Everyone said intent. How strange.

— Jacob Steinberg (@JacobSteinberg) February 10, 2014
What a player he is but how has yaya toure got away with that…

— Robbie Fowler (@Robbie9Fowler) February 10, 2014
So Yaya Toure escapes punishment but Bellamy doesn't. WELL DONE @FA.

— Chelsea Youth (@chelseayouth) February 10, 2014
Dont like Bellamy but how can he get done by FA and Yaya Toure be let off?

— Sam Patterson (@sampatterson19) February 10, 2014
Yaya Toure let off for kicking out at someone, have the @FA switched their allegiance from United to City? #Dodgy

— uMAXit Football (@uMAXitFootball) February 10, 2014
So the @FA take action against Carroll and Bellemy, but YaYa Toure is aloud to kick a man while he's down! #Standards worse than FIFA.

— Craig Hosking (@HoskingsHammers) February 10, 2014
@FA Why has Yaya Toure escaped punishment for two violent incidents this season? pic.twitter.com/i8Fx8L4Wu9

— Liam Edwards (@EddieisNo1) February 10, 2014
---