Bebe talks about going from an orphanage to Man United, compares his football style to Cristiano Ronaldo [AS]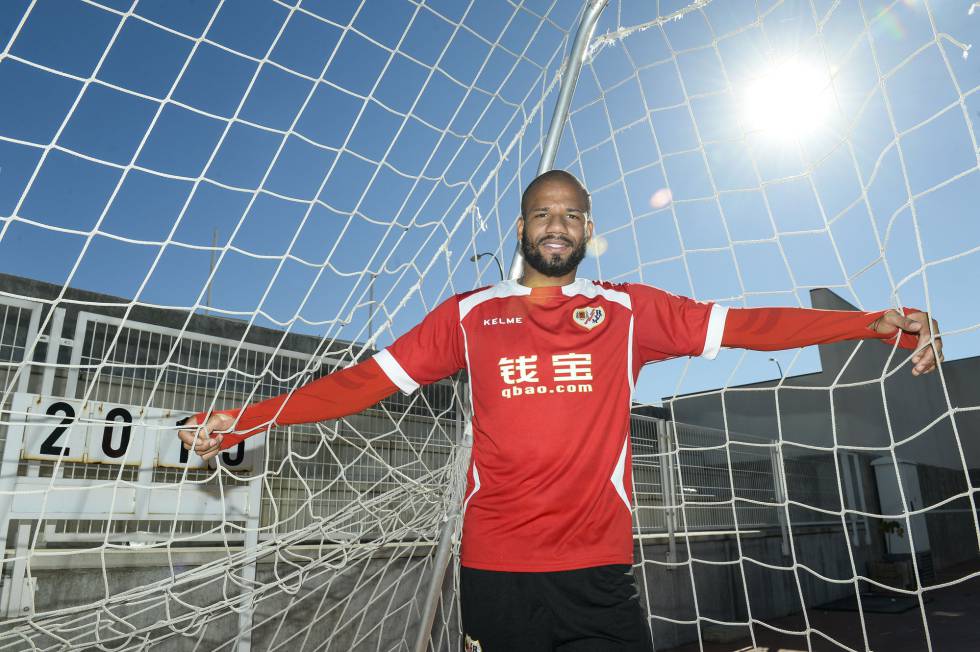 Bebe has given an interesting interview to AS, in which the former Manchester United man have discussed his upbringing in an orphanage, his move to Manchester United, his football icons, and more.
Eternally dubbed the 'homeless footballer', Bebe's story is captivating and something of a miracle.
It's also true that many Man United fans consider the Portuguese forward to be one of the worst signings in the club's recent history, after Sir Alex Ferguson shelled out £7m on him back in 2010.
Now 25-years-old, Bebe is currently plying his trade in Spain with Rayo Vallecano, where he's scored one goal in ten matches.
Bebe is at Rayo on a one-year loan deal from Benfica.
The standout quote from Bebe's interview with AS is that the forward compared himself to Cristiano Ronaldo, claiming thy have "the same" style on the pitch.
He also said that when Man United came in for him, he thought it was "a big joke".
Read the best extracts from Bebe's interview below.
You seem to be a happy player on and off the pitch..
Ya, I'm a happy kind of person, I try to enjoy myself. I like to let loose and play fast, to try things other people won't, but sometimes I get it wrong and complicate things for the team. I want my happiness to be contagious.
But you didn't have a very happy upbringing..
– Exactly. I know it'll never be as bad as before, it can't get any worse than that. My parents divorced, my mother didn't have the time to look after us and I never saw my father again. My grandmother Ilda brought up my sister and my three brothers, that was a lot to take on, and I didn't act right, I didn't behave. Now things are different, I can give my family, my people a different life.
What did you learn in the orphanage Casa do Gaiato?
– I learned a lot of things. They taught me respect and that if I wanted to achieve anything I had to work hard. It wasn't easy for me to get where I am today. I suffered a lot, there were times when I didn't have enough to eat as a child and I didn't even have enough money for the bus. They used to punish me in the orphanage and I'd go training without them knowing. When things come easy they go easy and there's nothing left, but when you sacrifice yourself for something you appreciate it more.
Are you still in contact with the people at the orphanage?
– Yes, with everyone there. They're my friends. Whenever I go to Portugal I visit them and spend the afternoon catching up with everyone. The orphanage is still running, there are less kids now and the older ones are gone. Father Arsenio is still there.
What do remember from being there?
– I remember my first day there, I was nine, I was in a bad state because I didn't want to go, I didn't want to be there, I was sad, but it was the most important day of my life because from that moment I knew I was changing. I was going to be a different Bebé. I learned everything fresh, school, everything. I remember playing football every day.
Was it your first contact with football?
– Practically. Before I wasn't interested, it was there I started playing every day; morning, noon and night. We used to play 20 a-side, there were a lot of us – 150 kids. I'd like to play like that again, but I can't.
Who was your idol?
-Drogba, but also Cristiano because he's Portuguese. I have the same way of running, and the same shooting style, he's definitely a favourite.
A turning point for you came in the Homeless World Cup in 2008..
– They sent me to represent Portugal. I just went there to enjoy myself but I scored a lot of goals and people started to talk about me in the newspapers, I couldn't believe it.
Suddenly you found yourself at Manchester United..
– It all happened very quickly, a total surprise. One day I'm training and the next they're telling me that I'm going to sign a five-year contract with Manchester United. I thought it was a joke. I wasn't there long, but I enjoyed it.
Your life story is like a fairytale: from the orphanage to Old Trafford..
– Every kids' dream, it was insane. I was playing with the best in the world. It wasn't easy, the first week I had to take a deep breath, but I got used to it. I adapted and tried to fit in.
Who impressed you most?
– Ferdinand, Giggs, Rooney… A few months earlier I was watching them on TV and suddenly here I was running, jumping and talking to them. Giggs really caught my attention, I saw how they loved him, always asking for autographs, pictures, jerseys…
At Manchester they didn't teach you much tactically?
– Ya, but I came there without much of a football education, just what I was born with: talent, speed, strength… but you needed more. If a big club signed me now it'd be different.
Manucho also played in Manchester and you're friends here…
– We weren't there together, but they've made me feel really welcome here, I feel like I've known everyone for a lot longer. We're friends, we come to training together, we laugh, we go out together, dance, that sort of thing.
You've played in England, Turkey, Portugal, and now here in Madrid, which is your favourite league?
– I've had the chance to live in lots of different countries and cities, but I'm happiest here in Spain. This is the place for me. I don't know if it's the style of play, the Spanish, who I love, or the food, but something tells me this is where I should be.
Click here for more Premier League betting tips
---