Bayern star Franck Ribery a doubt for Arsenal match after buttock surgery; Inevitable jokes ensue on Twitter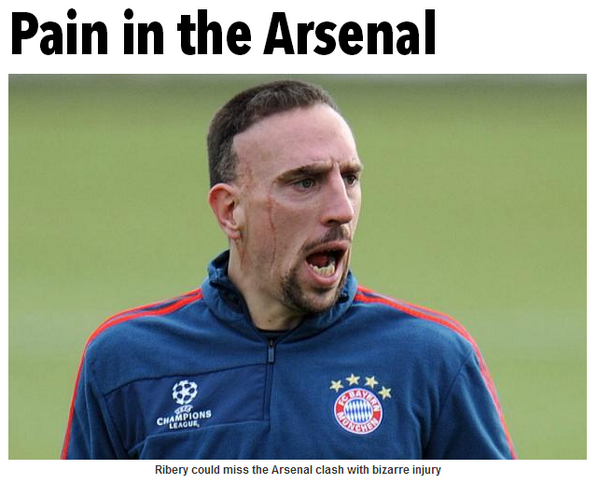 Bayern Munich manager Pep Guardiola today confirmed star winger Franck Ribery is a doubt for the first leg of the Arsenal Champions League tie after bursting a blood vessel in his buttocks.
The French star had surgery on his backside last night and is expected back soon, although the clash with Arsenal may come too soon.
An obscure injury to a high profile footballer = Twitter gets carried away making jokes.
We tried to locate the best jokes for your entertainment.
Frank Ribery will be out for a while following buttock surgery. What a bummer!

— Gary Lineker (@GaryLineker) February 7, 2014
"Ribery had surgery to repair a burst blood vessel in his buttock." < That sounds like a pain in the arse! *Gets coat & jumps in skip*

— MrBoywunder (@MrBoywunder) February 7, 2014
Bayern Munich will be without Franck Ribéry against Nürnberg "due to a bruised gluteal" – well that's a pain in the arse…

— Archie Rhind-Tutt (@archiert1) February 7, 2014
Hahaha Ribery's got a new nickname as far as I'm concerned. pic.twitter.com/UgY0rEQsXG

— Zainab Ramahi (@falastinicoor) February 7, 2014
Ribery's too butthurt to face us.

— Will Ako (@Akolaar) February 7, 2014
Franck Ribery will be out for a while following buttock surgery. That's face surgery to you and me.

— Alex Morris (@awesomemorris) February 7, 2014
Best football betting tips & free bet offers
Click here for more Premier League betting tips
---