Bayern Munich warm up for Arsenal by setting a new Bundesliga record with their 16th straight win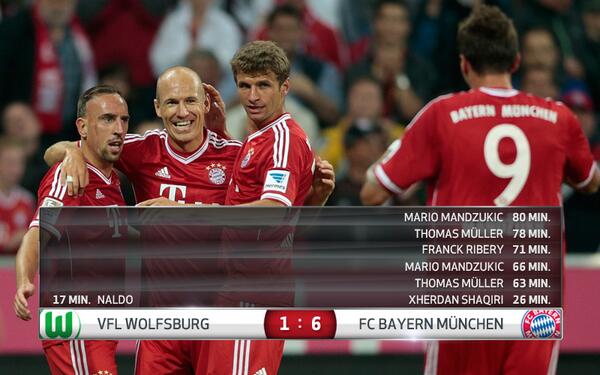 Arsenal got back to winning ways on Saturday with an important 4-1 win over Everton to put the Gunners into the FA Cup semifinals, however Arsene Wenger will have had one eye on events at Wolfsburg after the Arsenal win.
Wenger's next match is a do-or-die Champions League second leg tie at Bayern Munich, and there are few reasons to believe Arsenal can overturn a 2-0 deficit in Munich.
Bayern, the reigning Champions League champions, sauntered to an incredible 6-1 win away at Wolfsburg on Sunday.
The Bavarians victory was sealed with five goals in 17 minutes, while the result set a new Bundesliga record as Bayern completed a previously unprecedented 16 games winning streak.
See what Arsenal are up against on Wednesday night by watching match highlights of Bayern Munich's 6-1 win at Wolfsburg.
---