Bayern boss Pep Guardiola confirms Man United target Thiago is "the only player I want"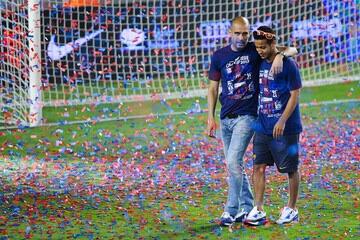 Over the last 12 hours or so, Thiago Alcantara appears to be inching closer to Bayern Munich and further away from Manchester United.
The Premier League champions were thought to be in pole position to snap up Thiago for just 18 million euros thanks to a release clause after he failed to play the requisite number of minutes for Barcelona last season.
Spanish radio station Cadena Cope reported last night that Thiago would in fact be heading to Bayern Munich after agreeing terms with the German giants.
And, on Thursday morning, Bayern Munich coach Pep Guardiola has given a press conference confirming last season's treble winners are interested in signing Thiago.
In fact, Pep commented that the Spain Under-21 star is "the only player I want" and having already worked together at Barcelona, Guardiola has to be favourite to snap up Thiago.
To add to the likelihood that Thiago is off to the Allianz Arena – Pep Guardiola's brother Pere is the agent of the in-demand Barcelona midfielder.
For new Manchester United boss David Moyes this looks like a blow. The Premier League champions will surely still strengthen their midfield this summer, right?
All of Pep Guardiola's quotes, via German football expert Rafa Honigstein are below.
Pep: "I want Thiago Alcantara. Have asked (Bayern to get him) Don't know what will happen".

— raphael honigstein (@honigstein) July 11, 2013
"I know him very well. I talked to Rummenigge and Sammer about him, we will wait and then see"

— raphael honigstein (@honigstein) July 11, 2013
"Don't think (adding another midfielder) will be a problem. I spoke to club about my concept and told them why I want Thiago Alcantara"

— raphael honigstein (@honigstein) July 11, 2013
"Thiago is the only player I want, that's what I told them"

— raphael honigstein (@honigstein) July 11, 2013
"It'll be him or no one"

— raphael honigstein (@honigstein) July 11, 2013
"We have many players but we the need the special (quality) that Thiago Alcantara brings"

— raphael honigstein (@honigstein) July 11, 2013
"The club will decide. I told them my opinion"

— raphael honigstein (@honigstein) July 11, 2013
"Nobody will leave Barcelona, unless they feel they won't play much. He wants to play. That's why I proposed him to the club"

— raphael honigstein (@honigstein) July 11, 2013
"Javier Martinez can play at CB, he played very well there with Athletic"

— raphael honigstein (@honigstein) July 11, 2013
"I give my opinion, but I listen to the board. If they say no, that's ok."

— raphael honigstein (@honigstein) July 11, 2013
Pep also hinted that Thiago Alcantara thought he will play even less now that Neymar is coming to Barca.

— raphael honigstein (@honigstein) July 11, 2013
---
GAMBLING CAN BE ADDICTIVE, PLEASE PLAY RESPONSIBLY