Bayern coach Pep Guardiola gestures that Man United's Wayne Rooney dived to get Schweinsteiger sent off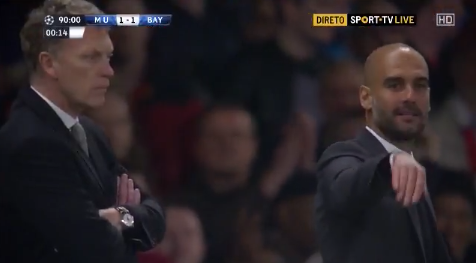 It was a bit of a moot moment for what would otherwise have been a hugely controversial one, but Wayne Rooney really did appear to dive in the dying minutes of United's draw with Bayern tonight.
As it happened in the 90th minute and clearly didn't affect the result, perhaps not too much will be made of it, other than the fact that Bastian Schweinsteiger will now miss the return leg next week, having been the victim of said dive.
The ref was hoodwinked, and Schweini was sent off for a second yellow.
And Pep Guardiola, normally so suave and magnanimous, broke from decorum to give his opinion on what he'd just seen, gesturing to the ref that Roo had taken a dive.
---
GAMBLING CAN BE ADDICTIVE, PLEASE PLAY RESPONSIBLY