Bart Simpson, Sisqo, & Storm from X-Men: Brazil's Dani Alves ridiculed for grey hair dye v Mexico [Tweets]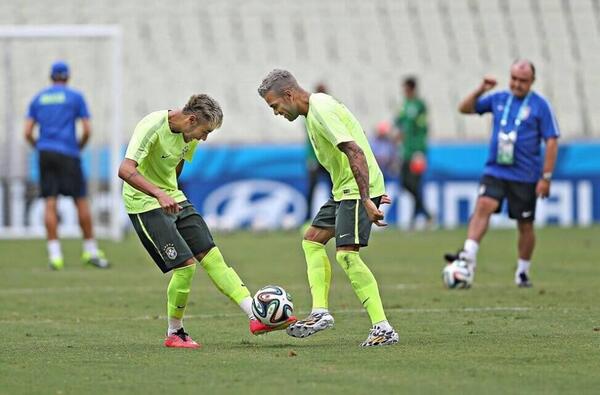 Dani Alves has really embraced the Samba Spirit, playing the World Cup back in his homeland Brazil.
A fashionista like no other, Alves enjoys flashy clothes and hairstyles, and he's decided to mark the Brassssssiuuuuu World Cup with a bleached blond look.
There's just one problem: it came out grey.
Whether by accident or design, Alves' hair has been dyed a grey-silver hybrid, giving him a rather bizarre aged and haggard look.
Twitter's enjoyed poking fun at him – Bart Simpson, the dummer from No Doubt, Siquo and Storm from X-Men are just some of the lookalikes being bandied about.
Probably ain't gonna catch on with the Yoof.
Unknown Fact: Dani Alves once had a successful pop career as part of No Doubt. #BrazilNuts pic.twitter.com/H7VB19LPGC

— Paddy Power (@paddypower) June 17, 2014
Dani alves playing rusty as his hair

— Raulinho (@raul_el_12) June 17, 2014
Anyone seen my ashtray? I last saw it in the Brazil changing room next to Dani Alves's shampoo.

— Monkey (@MonkeyPicks) June 17, 2014
Dani Alves didn't dye for this.

— Eamo (@EamoV1) June 17, 2014
Dani Alves is Bart Simpson #BrazilvsMexico 

— Omar Momani (@omomani) June 17, 2014
The national anthem went on so long that Dani Alves appears to have prematurely aged.

— Bankrupt (@bankruptspurs) June 17, 2014
Dani Alves looks like he's been to a ladies hair salon in Rotherham. Blue rinse boy.

— Robbo Robson (@Robbo_Robson) June 17, 2014
Barber "yes please sir?" Dani Alves "I'll have a Keith Curle please" #2014FIFAWorldCup #bbcworldcup

— Dave (@Aldehulme) June 17, 2014
Dani Alves & Neymar look like they're the children of either Abel Xavier or one of Romania's 1998 World Cup squad #BRA

— Adam Digby (@Adz77) June 17, 2014
Dani Alves merely turning his hair colour the same as all the cules who watched his efforts at defending for FCB this season

— Jim (@BarcaJim) June 17, 2014
Dani Alves has gone grey since the last match. I know there's a lot of pressure on Brazil but….

— Graham Ruthven (@grahamruthven) June 17, 2014
---
GAMBLING CAN BE ADDICTIVE, PLEASE PLAY RESPONSIBLY