Barnet denied a 3-2 comeback win at Cambridge after the ref disallowed a goal because of a smokebomb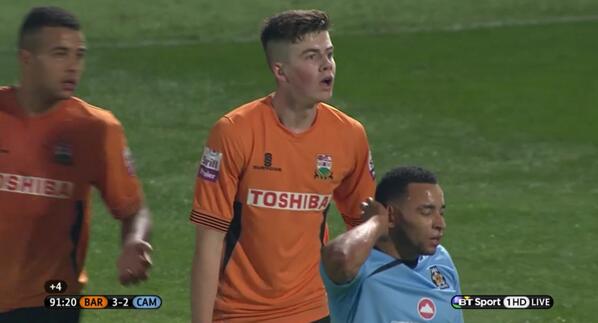 Edgar Davids' Barnet side were robbed of three points at Cambridge on Saturday when a perfectly legal injury time winner was scratched out courtesy of a terrible call from the officials.
Barnet, playing in the Conference, rallied back from 2-goals down at the league leaders Cambridge, however the Bees were denied a fabulous comeback win when a linesman got distracted by smoke bellowing out from flares at the Hive Stadium.
Following a 91st minute Barnet corner, the Cambridge keeper pushed the ball skywards having saved an initial shot, only for the ball to fall at the feet of debutant George Sykes, who calmly knocked the ball in the back of the net.
Having scored a winner of his maiden game for the north Londoners, Sykes' joy was immediately extinguished as the officials ruled that the ball had gone out of the play.
In a terrible decision, the linesman believed that the ball crossed the white line when it entered a plume of smoke following the Cambridge keeper's save. The decision was patently wrong and Barnet were the big losers.
Watch how Barnet were denied a win at Cambridge because of flares below.
---
GAMBLING CAN BE ADDICTIVE, PLEASE PLAY RESPONSIBLY