Barcelona Tekkers v Malaga: Thiago roulette, Iniesta's spin & Messi's through ball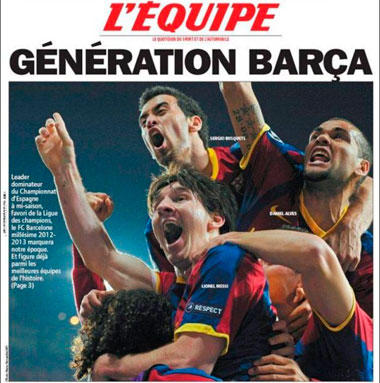 On Wednesday, L'Equipe published a special edition on Barcelona, titled "Generation Barca."
The French newspaper hailed Barcelona as the best team of this generation and said "There is Nothing Better" than Tito Vilanova's current side.
Lionel Dangoumau compared Barcelona with Real Madrid of the 50s, Inter Milan of the 60s, Ajax and Bayern Munich of the 70s and the AC Milan team of the late 80s and early 90s.
Pichi Alonso, a commentator on Canal+ and a former Barça player, even goes so far as to say: "It is impossible for a team to beat Barça right now."
Bearing in mind all the above, Malaga produced an impressive feat at the Nou Camp last night, securing a 2-2 draw with 10 men which means the second leg at Estadio La Rosaleda next Thursday is set up beautifully.
Despite Malaga's late equaliser, Barcelona produced some more brilliant skills during the encounter.
Best of all was Thiago Alcantara's roulette, also below are Andres Iniesta's "La Croqueta," a ridiculous through ball from Lionel Messi for one of Alexis Sanchez's misses and some fine Tiki-Taka between Messi and Iniesta.
As a bonus video, see the fifth one below – showcasing what L'Equipe were on about: Barcelona's Tiki-Taka through the years.
---