Barça's latest transfer farce and the Cantera conundrum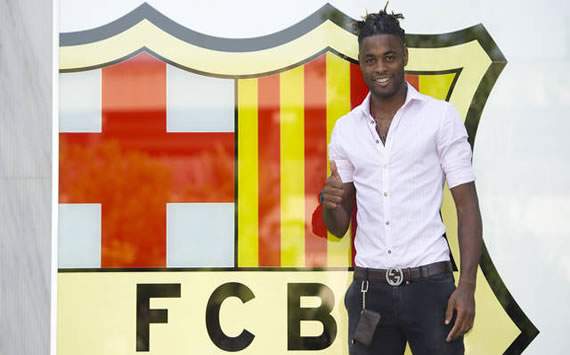 By Paul Morrissey, in Madrid (Follow on Twitter here)
Zlatan, Dmytro Chygrynsky, and now Alex Song. The miscast signings are stacking up at Barcelona.
After being had worse than a greenhorn Western tourist at an Arabian bazar in the Zlatan-Eto'o swap fiasco (Moratti still lights his cigars with the leftover cash), Barça's big transfer policy remains a mystery. It's not that they're just getting it wrong; that's an inevitable risk that every club suffers in the market. It's that they've been doomed from the outset.
(OK, with the benefit of hindsight; but did they really think they could make a docile Believer out of football' bad boy from Sweden's most notorious ghetto?)
And with a 100% Barça DNA convocatoria now a very real dream after last month's 11 canteranos took the field, how much they actually need and can benefit from the transfer market is now up for debate.
Because the recent transfer farces have all suffered the same diagnosis : negative trace of Barça DNA.
The only trace of it  in Chygrynsky was his passing resemblance to Carles Puyol. Hleb couldn't get to training on time. Alexis Sanchez is so desperate for his secret not to get out (that he can't keep up with the MENSA-esque evolution) that he's decided he'll dive his way to acceptance, in a sad attempt to ingratiate himself to Busquets. And now they find Song is so far off the required standard that they've set him special defending lessons.
(Way to make him feel at home. We'll be over here playing rondas. Let us know when you've got the Barça half-touch ® down, and then – maybe – you can join in. Fucking Goofball.)
The high line the Barcelona defence play is enough to give most defenders a bout of vertigo. This, coupled with the composure required to build from the back (always from the back), makes it a highly specialised calling. So Song was always going to have to be given time to adapt.
But special classes? Seriously? At 25, it's too much to ask. He's being asked to unlearn not only his formacion, but to curb his natural instincts as an intuitive player. It's as vain a mission as Eliza Doolitlle fighting not to relapse into gutter slang.
In any case, he's not been seen in defence since he went AWOL at Sevilla. He's been told to focus on getting the pivote role down mas que nada. So far, you could argue that Song is perfectly fulfilling his role as Seydou Keita's replacement. As in, just as with Keita before him, he's become the player who the tiki-takkers only pass the ball to as an absolute last resort.
Against Cordoba in the Copa del Rey, his team mates blatantly bypassed him at every turn as he ghosted around them doing his best to look busy and unbothered, probably crying tears of shame on the inside. That shit should only happen on the playground, not to a €19 million professional player.
Villanova wanted a defensive midfielder who could provide assists from deep, as Song so often did with RVP at Arsenal. But he'll never get that opportunity at Barça, because a) he's instructed to keep within his zone, and b) no one is looking for that ball over the top anyway; Iniesta has that taken care of from closer range. If that part of the bargain had been kept, then maybe, at a push, he'd have had a chance. A few touches of the treasured pelota would probably satisfy him at this stage.
But as it is, Alex Song isn't a Barcelona player, and never will be one; whether Uncle Rigobert, his seventeen sisters and ten brothers like it or not.
This is a "Local Shop, for Local People" (Tubbs, The League of Gentlemen)
But Song's inability to fit in has wider implications, and raises the question of whether 'outsiders' still have their place at Can Barça.
With the Blaugrana having just fielded 11 canteranos against the backdrop of the most independenista Catalan elections in living memory, the question is a valid one.
It's rightly been celebrated, with no small dose of self-righteousness within the hallowed Nou Camp walls. But it comes with a caveat.
By shifting the emphasis so drastically to the mass-produced Made in La Masia prototype, Barcelona are at risk of forgetting a profile that's been integral to their history and success. Romario, Rivaldo, Ronaldinho : none of the sacred 3Rs would fit into the contemporary Barcelona.
(Ronaldo would though; at his Barça-Inter peak he was a lethal link-up striker, similar in style and work ethic to David Villa.) 'Ronaldinho' is almost a bad word ; Barça's Lord Voldemort. He was an important – if disruptive – player, yes; but a Revolution has taken place since he left. They've moved on.
Even those who've managed to breach the inner circle since, like Thierry Henry, have had to assimilate the Barcelona ethos to the extent of leaving their old selves behind for the Greater Good. After a tough first season, he scored 35 goals as one third of the Mess-Eto'o-Henry trident.
Another cog in the machine, but not "Thierry Onry, Thierry Onry". The Henry example is a fitting one, because among the 11 Chosen Ones against Levante there was one glaring omission: a striker. They can clone sweeper-keepers, laterals, pivotes, mediapuntas, extremos, but they're still looking for that sprinkle of pixie dust to mould an in-house striker.
Messi may well have taken growth hormones, he didn't pop an immortality pill. Some day in the intergalactic future, maybe when we've reached the Singularity, the stars will part and Messi will cease playing football. Two strikers will be needed to score his goals, and at the current rate, they'll need to be sourced from outside.
"Barcelona can't just presume to always field 11 canteranos" (Iker Casillas)
And that's just as well. Because its evolution from an open-door commune for free thinkers into an esoteric ivory tower risks cutting Barcelona off as a closed-off cult. The movement that started with Cruyff took on an extreme veneer under Guardiola. The Catalan Dalai Lama banned all languages apart from Spanish & Catalan from the playing staff.
Their vista is increasingly egocentric, centred on the inner perimeter of the would-be nation-state of Catalonia. Their u-10's imitate the seniors without even knowing who they are yet; their U-12s are broadcast live on TV, many of whom are household names on Las Ramblas.
Xavi took less than 24 hours to respond to Casillas' above remark. "We do presume from the cantera. They're more prepared than those who come from outside and we feed from them."'
You must be this small to ride the roller-coaster. The uninitiated need not apply. OK, calma, calma : there's clearly no risk of Barcelona ever even contemplating aping Athletic Bilbao's "Basque Only" policy, but the cultural similarities exist enough for outsiders to now think twice when the call comes.
That call could soon come to Neymar, Ronaldinho's modern day Malandro incarnate and Santos' Rip Van Winkle. He carries a boombox blaring 'Ai Eu Se Te Pego' to matches and generally bounces around like he owns the place. None of that will fly at Barça. He'll be expected to lead the devout monastic life of his peers, and with that his natural game will ebb away.
Each Barça defeat is now met with a 'no Plan B' discourse, but what if the failure of Plan A was down to to an excessively homogeneous team culture? A 'Groupthink' that, when Messi gets squeezed out against a Chelsea, lacks a bohemian spirit that you can't pin down?
That 'I don't know what' that allowed Ronaldinho to pick out Ludo Giuly in April 2006 at the San Siro when all other avenues looked exhausted. That unpredictable sparkle that's always made Barça so seductive to their global fanbase and Qatari benefactors.
Amid all the cantera clamour and marginalising of outsiders, Barça could do well to remember that the policy they're now striving towards wouldn't have been possible without the increasingly unwelcome 'outsiders'. Never forget where you're coming from.
Why you need a VPN?
Cut chords:
Watch everything (Netflix, BBC iPlayer, Hulu) online using a VPN.
Unlock geoblocking:
A VPN gives you access to the best content from anywhere in the world.
Privacy & security:
A VPN keeps your information private, activity encrypted & data anonymous.
Just $6.67 a month + 3 months free!
Click here for more Premier League betting tips
---