Bad Break: Nigel de Jong (Manchester City & Holland) vs Stuart Holden (Bolton & United States)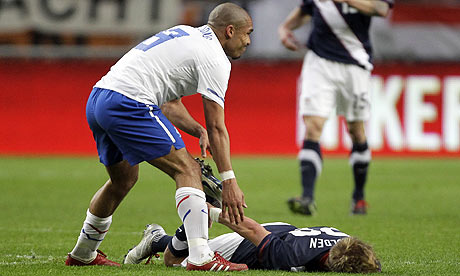 One of the big losers in Wednesday night's internationals was Bolton and United States midfielder Stuart Holden who suffered a fracture to his fibula in a horror tackle with Manchester City's Nigel de Jong. 22-year-old Holden, who had impressed after starting Bolton's last two matches, is now set for at least six weeks on the sidelines.
For this writer at least, the tackle brought back instant flashbacks of Ryan Shawcross's assault on Aaron Ramsey last weekend, and moreover, appeared to put an end to the idea the reckless, over-the-top tackles are a purely English problem.
Perhaps even more surprising though was the lack of remorse shown by De Jong for his poorly timed tackle. After the match the Citizen's enforcer told reporters "such offences are part of football. I went for the ball and got the opponent at the end. I had no evil intent. If the ball is between me and the opponent, you have to go in full. If you do not then the opponent takes you. And if you're scared in a game you get injured yourself."
Footage of De Jong's horror tackle on Holden can be seen here.
---
GAMBLING CAN BE ADDICTIVE, PLEASE PLAY RESPONSIBLY