Asier del Horno's pathetic dive (Barcelona – Levante)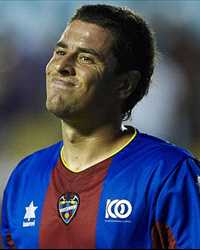 The former Chelsea defender covered himself in shame on Sunday night when he faked an injury against the Catalans.
The incident started when Asier del Horno appeared to be shepherding the ball out of play under pressure from Barcelona's Dani Alves. Rather than simply see the ball roll over the touchline for a throw-in, Del Horno decided to ignore the fact that Alves made no attempt to challenge for possession as the Valencia loanee tried to get his opponent booked.
Simulating an Alves kick to his ankle in spite of a clear lack of contact, Del Horno went down clutching his leg as if he'd been shot. It was a case of blatant cheating, and Barca coach Pep Guardiola made his feeling perfectly clear with his frowning reaction to Del Horno's dirty's dive.
Asier del Horno's moment of cheating against Barca can be seen here.
Related Video: Highlights of Barcelona 2 – Levante 1.
Best football betting tips & free bet offers
Click here for more Premier League betting tips
---