Arsene Wenger slams diver Arjen Robben and the referee for Bayern's penalty & Szczesny's dismissal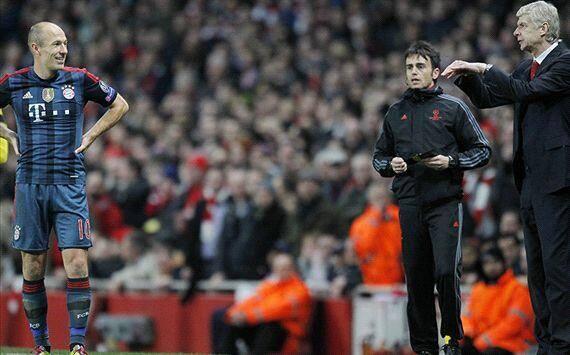 Arsene Wenger was bitter at his post match press conference after the Bayern Munich defeat.
Wenger's biggest gripe concerned the first half dismissal of Gunners keeper Wojciech Szczesny in a collision with Arjen Robben which also earned Bayern a penalty.
During the match Wenger noticeable produced a "diver" side to the fourth official as Robben stood alongside the Professor on the touchline in an incident that saw Manuel Neuer get treatment after a coming together with Yaya Sanogo.
In his presser the Arsenal manager fumed:
Our keeper went genuinely for the ball… [the red card] killed the game, it was top quality until then.
[Robben] has enough experience to make more of it [the contact] – Bayern made the most of every single contact. Robben certainly made the most of it, as I told him. The referee made a decision that killed the game.
It changed completely the game, it killed the game (the red card). The second half was boring with one-way traffic.
See how Arsene Wenger called Manuel Neuer a diver next to Arjen Robben on the touchline below.
---
GAMBLING CAN BE ADDICTIVE, PLEASE PLAY RESPONSIBLY