Arsene Wenger confirms on French TV that Robert Lewandowski has signed for Bayern Munich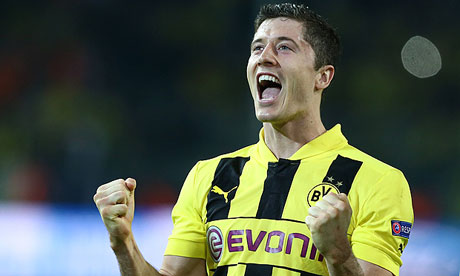 Arsenal boss Arsene Wenger took on commentary duty on Saturday night as he explained some of the nuances of the Champions League final to a French TV audience on TF1.
Wenger confirmed the rumour that has been swirling about around Europe for some time – that Borussia Dortmund striker Robert Lewandowski will be joining Champions League final opponents Bayern Munich this summer.
The Arsenal boss announced this during the first half of the Wembley Champions League final and this quickly gained traction via a Twitter account named @LeFrenchGooner.
Throughout the encounter, Wenger described his admiration for Borussia Dortmund midfielder İlkay Gündoğan.
Whilst the Arsenal boss also said he was almost certain Zlatan Ibrahimovic would not be leaving Paris Saint Germain this summer.
Arsene Wenger also took a swipe at Manchester City during the French broadcast, confirming that they finished bottom of the Champions League group that contained Borussia Dortmund.
A selection of the best Tweets on Arsene Wenger's appearance on French TV to commentate on the Champions League final are below.
According to Arsene Wenger, who's actually on french TV, Lewandowski already signed for Bayern Munich !

— Thomas (@LeFrenchGooner) May 25, 2013
Wenger also seems to love Gundogan. Talked a lot about him while being questionned by the commentator.

— Thomas (@LeFrenchGooner) May 25, 2013
Wenger making fun of City >>>>>Commentator: "Dortmund finished 1st in group"AW : "And city were last …"

— Thomas (@LeFrenchGooner) May 25, 2013
Commentator : "Do you think Ibra will stay in Paris ?"Arsene Wenger "Yes."90% of AW's answers are "Yes".

— Thomas (@LeFrenchGooner) May 25, 2013
Wenger "Subotic really is a good defender"#SignHimThen

— Thomas (@LeFrenchGooner) May 25, 2013
---
GAMBLING CAN BE ADDICTIVE, PLEASE PLAY RESPONSIBLY