Arsenal's Olivier Giroud talks to L'Equipe about his private life, admits "It was difficult to live with"
After several weeks of the Sunday tabloids in England tearing strips off of Arsenal striker Olivier Giroud with almost weekly sex scandals, the Gunners striker has finally spoken about the problems in his private life to leading French daily L'Equipe.
Giroud seemed defiant in his first interview since it was alleged he cheated on his wife with underwear model Celia Kay, saying the following:
There were things that were true, others things which were false. But that's the past. Anything that does not kill me makes me stronger. I am convinced that everything that's happened lately will make me stronger.
It's going to take me ten years in the head. I also go out stronger on the pitch. Whenever I had to respond on the picth, I said this. That's all I have to do: focus on the field for my club and take care of my family.
It was difficult to live with. You have to be strong mentally. I use the pitch as an outlet. The contribution of the coach (Arsene Wenger) were very important. I could talk with him, as I have done with the (French national team) coach (Didier Deschamps ).
It's good that there was a dialogue. Now I want to forget it, to move on and make a fresh start.
Copies of the papers which got the news out about Olivier Giroud's private life can be seen below.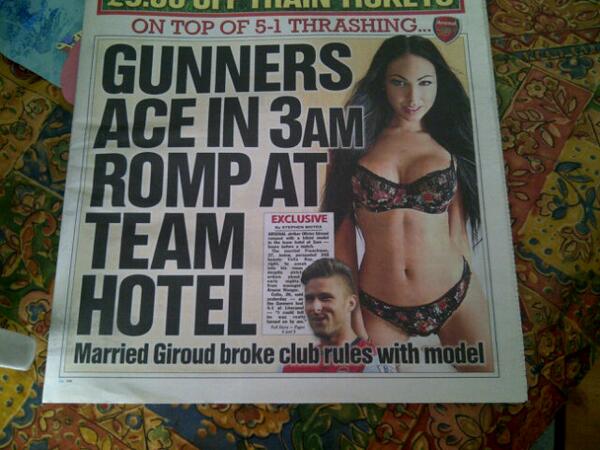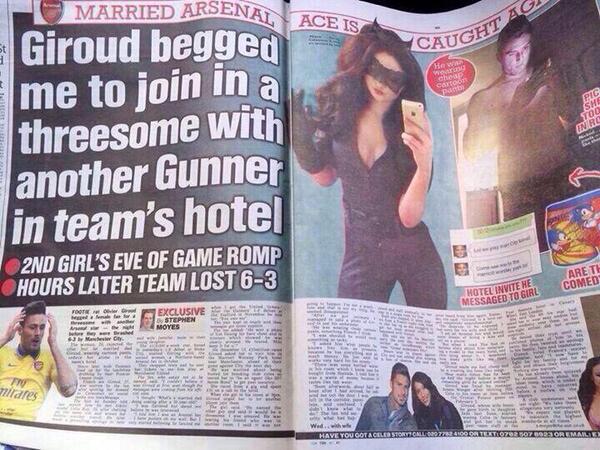 ---
GAMBLING CAN BE ADDICTIVE, PLEASE PLAY RESPONSIBLY