Arsenal's eternal sicknote Abou Diaby still thinks he can play for France in the World Cup in Brazil [France Football]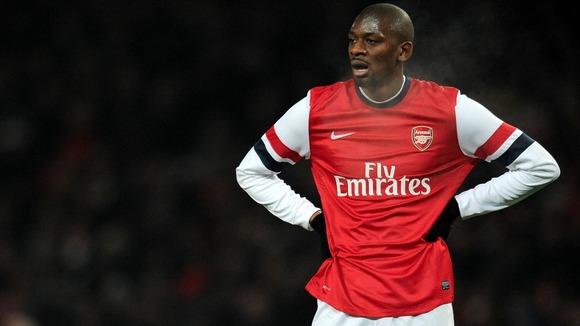 Abou Diaby is undoubtedly an optimist.
The 27-year-old Arsenal midfielder is currently working on a strict rehabilitation programme as Diaby again makes his slow way back from a nasty cruciate knee ligament damage.
Diaby suffered the injury back in March, and it was another hammer blow for the French international whose career has been dogged by injuries.
Despite his chronic injury history, the Gunners midfielder has given a new interview to France Football in which the footballer has incredibly stated his belief that he could still make the French team of the World Cup in Brazil despite the fact he hasn't played once for Arsenal this term.
Diaby told France Football, "I've never given up hope of going to the World Cup. Thinking of that has kept me going. Once I'm back on pitch, everything's possible."
France Football also publish a quote from the athletics trainer working with Diaby, saying "9/10 players would've given up. People who say Diaby is fragile are wrong. He is Highlander."
Diaby is currently undertaking intensive training in the Alps in a last-ditch bid to feature for Arsenal this season.
---
GAMBLING CAN BE ADDICTIVE, PLEASE PLAY RESPONSIBLY