Arsenal's Emmanuel Eboue was sent off at Old Trafford in 2008 for a Nani-esque challenge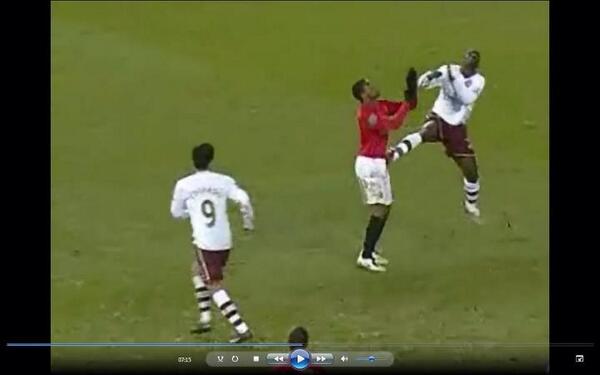 In the aftermath of Nani's sending off against Real Madrid, many comparisons were made with Nigel De Jong's infamous challenge in the 2010 World Cup final.
A better example, and one Arsenal fans will remember well, comes from an FA Cup game in 2008 at Old Trafford which the Gunners lost 4-0.
Emmanuel Eboue was sent off for the Gunners, just after half-time, with an almost identical "high" challenge on Patrice Evra, in virtually the same place on the Old Trafford pitch.
In the immediate aftermath of the challenge by the former Arsenal player, Rio Ferdinand was incensed and can clearly be seen urging the referee to take action.
Nani is also one of the players that approaches the referee but before the Manchester United winger can complain, referee Alan Wiley had already flashed his red card.
Sir Alex Ferguson made no complaints at the time and the reaction from Manchester United's players five years ago, specifically Rio Ferdinand, who clapped referee Cuneyt Cakir in the face at full time last night, is rather telling.
Emmanuel Eboue's sending off for Arsenal at Manchester United in 2008 is below, followed by a video show casing Nani's sending off v Real Madrid.
---