Arsenal's Danny Welbeck outshines Man United's Falcao in goals, shots & chances created this season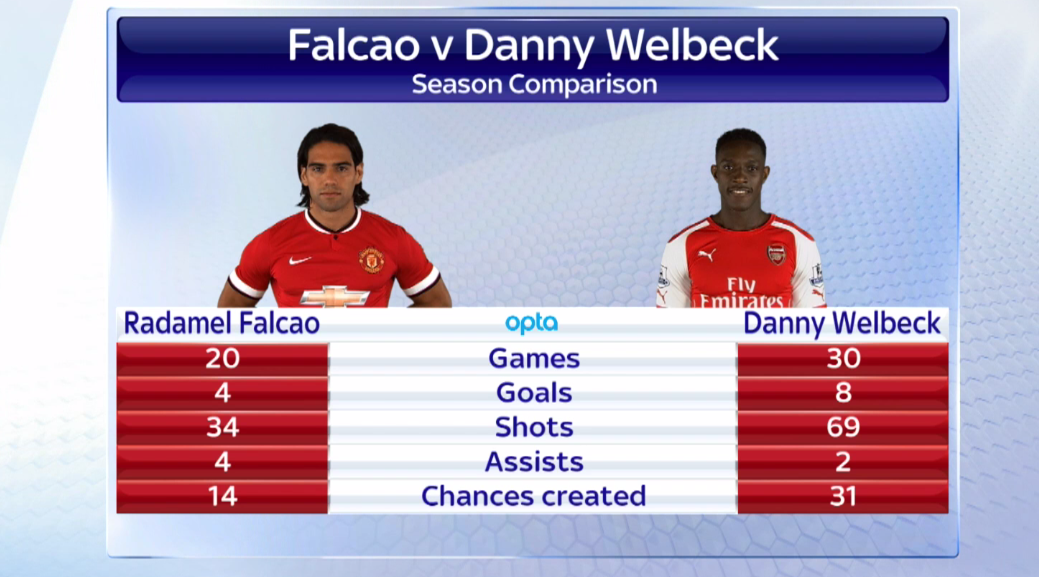 Following Arsenal's 2-1 away win at Manchester United on Monday night in the FA Cup, Sky Sports have compared the stats for Arsenal's Danny Welbeck and Man United's Radamel Falcao this season.
The Red Devils, of course, sold Welbeck to Arsenal at the start of the season for 16 million pounds, while Radamel Falcao was drafted into Old Trafford on loan for Monaco.
Man United paid six million pounds for Falcao's season-long loan.
Looking at the data, the first point of note is that Welbeck has played more games that Falcao this campaign, which has allowed the Gunners forward more opportunities to swell his stats.
Indeed, Welbeck has scored eight times for Arsenal this season – double Falcao's return – while Welbeck has had 69 shots this season compared to Falcao's 34.
Falcao, interestingly, has doubled the amount of assists that Welbeck has achieved at the Emirates, but the England international has created 31 chances for the Gooners compared to Falcao's 14.
Overall, Welbeck has more goals, shots and chances created than Falcao, and it's definitely possible to argue that Arsenal did better out of the striker-merry-go-round at the beginning of the season.
Back Real Madrid to beat Schalke at 2/1!!!
---