Arsenal youngster Chuks Aneke scores cracker for Crewe v Wycombe (video)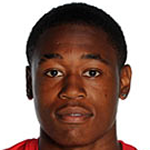 Highly-rated Arsenal youngster Chuka Aneke claimed another fine goal for Crewe in a 4-1 FA Cup victory over Wycombe on Saturday.
Aneke, a 19-year-old midfielder, has now scored three goals for Crewe since joining on loan from Arsenal. The goal below was his third of four scored on the day.
According to LadyArse.com and the video below, Arsenal boss Arsene Wenger has compared Chuka Aneke with Yaya Toure due to his languid midfield style.
Following Crewe's victory, manager Steve Davis hailed the young Gunner and his fine goal: "Chuks gets a lot of criticism for his style and the way he lumbers around. But he's got great feet and he can shoot like that with both. He switched it from right to left and unleashed a terrific dipping shot. There was only one thought in his mind – we know he can score those sort of goals."
Chuks Aneke's goal v Crewe can be seen on the video below. Some rare good news on a weekend of gloom for Arsenal fans…
After the jump, another quality goal by Chuka Aneke, for Crewe against Hartlepool at the start of October.
[jwplayer config="For-all-videos" mediaid="255360″]
[jwplayer config="For-all-videos" mediaid="255361″]
---
GAMBLING CAN BE ADDICTIVE, PLEASE PLAY RESPONSIBLY