Arsenal shareholder Alisher Usmanov talks to the Telegraph: "This is Arsenal's time"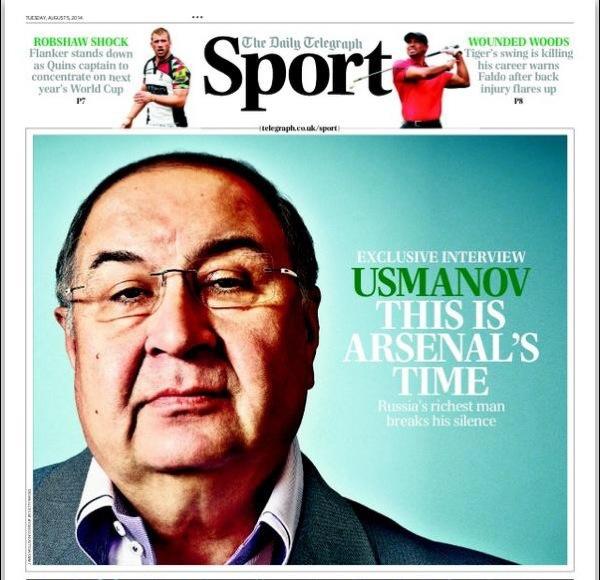 The Telegraph's sports section on Tuesday is splashed with a picture of Arsenal's 2nd biggest shareholder, Alisher Usmanov.
Usmanov, the Uzbekistan billionaire, has often been heard voicing criticisms of the Gunners over the past few seasons, particularly during the barren nine year trophy which finally ended last year when the club won the FA Cup. 
With the trophy in their Emirates cabinet, and with new signings like Alexis Sanchez now at the club, Usmanov has spoken exclusively to the Telegraph about his belief that "This is Arsenal's time".
The highlights of Usmanov's quotes to the Telegraph are as follows:
The club is very well placed to succeed. I think we begin a new era for Arsenal where we win trophies. That is most important for football.
In my opinion, in line with the existing rules, the club has the correct decision-making process in place, including their selection policy, especially now, when they have the means to buy the best players.
Difficulties have now been overcome and the team is in a good state; the club's finances are in order and I believe that ArsEne Wenger and the club's CEO [Ivan Gazidis] will manage them correctly.
I invested in Arsenal when I bought shares. Obviously, if the club needs it [money], I am ready to consider various options. In my view, at present, the club has great prospects and it does not need additional investment.
I never said anything bad about the club or somebody personally. I said what, in my view, we can do – not better – but more effectively.
I also want to highlight the contribution of the coaching team. They achieved the best they could at a time when the club had a huge financial deficit.
I have warm and, in my view, good relationships with a number of the board member, [but] I have not had any contact with Mr Kroenke. 
Those who control the club run the club. Mr Kroenke's group controls the club and they control the day-to-day management. I hold a 30 per cent stake in Arsenal and therefore, the board's success is shareholders' success.
I have no plans to exit. I wish Arsenal success and hope that they win trophies.
Staying with Arsenal, below is the Guardian's pre-season review of the Gunners before the Premier League campaign kicks off.
Click here for more Premier League betting tips
---