Arsenal & Man United fans react to the news Vermaelen could be swapped for Cleverley!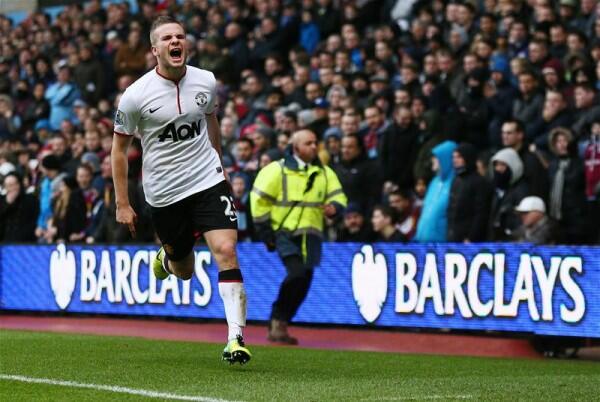 EXCLUSIVE Betting Special! Click here to bet on Neymar to score for Brazil v Mexico at scandalous odds of 4/1!!!
Reports in the past few days that Thomas Vermaelen had agreed to move to Manchester United always seemed a little curious.
Surely Arsenal would not sell another captain to a direct Premier League rival?
On Tuesday, the Daily Mirror added another angle to the potential transfer of the Belgian to Old Trafford.
John Cross writes: "Arsene Wenger could look for a part-exchange deal with Manchester United over Thomas Vermaelen. The Arsenal boss has been keeping tabs on Tom Cleverley and also has an interest in Chris Smalling."
Cleverley has become somewhat of a scapegoat at Manchester United with the midfield at Old Trafford looking increasingly poor with each passing season.
Swap deals are often mooted in transfer windows and never happen – the Samuel Eto'o/Zlatan Ibrahimovic deal between Inter Milan and Barcelona in 2009 is the only one that comes to mind.
So, Arsenal fans can rest easy. Nevertheless, the reaction from Gooners and United fans on Twitter makes for amusing reading.
"Tom Cleverley could join Arsenal from Manchester United as part of a deal to take Thomas Vermaelen to Old Trafford" pic.twitter.com/JZ8EfxZqRl

— Fiyin Dosunmu (@fifidosunmu) June 17, 2014
Arsenal fans after hearing Tom Cleverley might be coming to the Emirates #ItWillNeverHappen pic.twitter.com/SPNjfgTBwU

— Michael (@GoonerNo1) June 16, 2014
"@FFArsenal: Arsenal want Tom Cleverley as a part of the Thomas Vermaelen deal. (Mirror)" pic.twitter.com/KRoutXjcx9

— Giroud's Last Fan (@Taz7289) June 16, 2014
Please tell me the Vermaelen / Cleverley swap deal is all paper talk ? Surely we have enough toilet cleaners at The Emirates already.

— 'Big' Steve (@AFCSteve) June 17, 2014
You get Silvestre We get Van Persie You get Cleverley We get Vermaelen In Wenger we trust…. #MUFC

— #MUFC (@LUtdHCity) June 17, 2014
Cleverley would bring much needed scapegoating to the midfield for when Jack is out.

— Kick Arse (@kickarseHD) June 17, 2014
Joke of the Day: Arsenal could land Tom Cleverley as part of a swap deal for Thomas Vermaelen!

— Michael ⚽ Gooner (@MickTheGooner) June 17, 2014
A Cleverley for Vermaelen swap? Will two sets of fans be more underwhelmed by any swap deal ever again after that?

— Scott (@R_o_M) June 16, 2014
Never going to happen but imagine we turned down Cesc to sign Cleverley. #InArsèneWeBanter

— FK (@fkhanage) June 16, 2014
"Sorry Cesc, we're saving that spot for Cleverley." Yeah. Right.

— Andrew Allen (@AAllenSport) June 16, 2014
Just imagine. Fabregas at Chelsea and Cleverley at Arsenal.

— Tom Adams (@tomEurosport) June 16, 2014
Someone's going to do the Cleverley-Vermaelen part-exchange fee joke, aren't they?

— Football Clichés (@FootballCliches) June 16, 2014
---
GAMBLING CAN BE ADDICTIVE, PLEASE PLAY RESPONSIBLY