Arsenal fan Piers Morgan slags off Chelsea "over-rated" Eden Hazard as he scores a hat-trick v Newcastle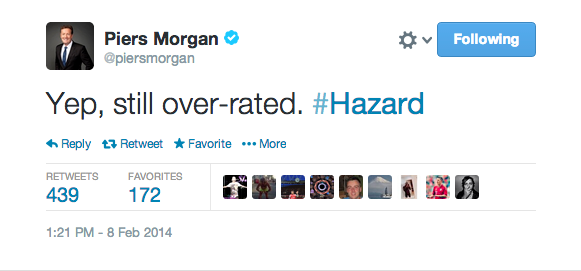 Piers Morgan isn't always a complete dumbass, but the Arsenal-loving CCN anchor enraged Chelsea fans on Saturday with a stupid comment during the Newcastle game.
Possibly still pissed at seeing his Gunners side torn a new one losing 5-1 at Liverpool, Morgan took to Twitter to call Eden Hazard "over-rated".
Morgan's called could barely have been more awfully timed as Chelsea's Belgium star ended up scoring his first Blues hat-trick in the whitewash of the Magpies.
Should HAzard go on to win the player of the year award this season, Piers Morgan tweet is likely to be mercilessly rammed down his throat for quite a long time to come.
See highlights of Eden Hazard's hat-trick for Chelsea v Newcastle below.
---
GAMBLING CAN BE ADDICTIVE, PLEASE PLAY RESPONSIBLY