Arsenal expect to earn £5m from Cesc Fabregas' move to Chelsea [Telegraph]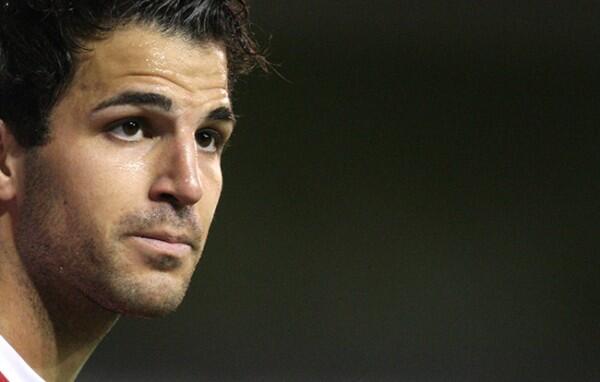 Although there does not appear to be anything concrete happening with Cesc Fabregas' future, we are receiving daily updates hinting that a move to Chelsea is close.
On Wednesday, El Mundo Deportivo claimed Fabregas' move to Chelsea would be confirmed once Barcelona completed the signing of Croatia schemer Ivan Rakitic.
Yesterday, Sky Sports pundit Guillem Balague was a little less certain, ruling Arsenal out the race for Fabregas but suggesting Barcelona were pushing the Spanish midfielder towards Stamford Bridge.
Today, well-connected Daily Telegraph journalist Jeremy Wilson has brought his own updates on Fabregas' likely move to Stamford Bridge.
Wilson again confirms that Arsenal do not want bring Cesc back to the Emirates and suggests the Gunners will make move from any Fabregas move.
Rumours have been rife over the past week that there is a clause in Fabregas' contract, ensuring Arsenal earn 50% of the profit on any deal over 33 million euros.
Reports suggest Roman Abramovich is not keen to pay Arsenal any money in Chelsea's move for Fabregas…
World Cup betting tips: Beat the bookies during Brazil 2014 – a top 10 list.
Has been quite a bit of conflicting info all along from different people close to Fabregas deal from Arsenal to Barca…

— Jeremy Wilson (@JWTelegraph) June 12, 2014
No doubting Arsenal had 1st refusal and not interested now. But still told they expect around £5m from proposed move to Chelsea…

— Jeremy Wilson (@JWTelegraph) June 12, 2014
Lack of interest now simply explained by having Ozil/Ramsey. Wenger wants holding midfielder but doesn't think Fabregas can become that

— Jeremy Wilson (@JWTelegraph) June 12, 2014
He also wants striker, right-back, goalkeeper and so won't spend £27m on position he doesn't need.

— Jeremy Wilson (@JWTelegraph) June 12, 2014
No deals expected before WC. Wenger seems to be playing usual game of seeing how things fall elsewhere but Aurier looks increasingly likely

— Jeremy Wilson (@JWTelegraph) June 12, 2014
---
GAMBLING CAN BE ADDICTIVE, PLEASE PLAY RESPONSIBLY