Arrogant Nicklas Bendtner (Arsenal) thinks he'll be better than Zlatan Ibrahimovic (video comparison)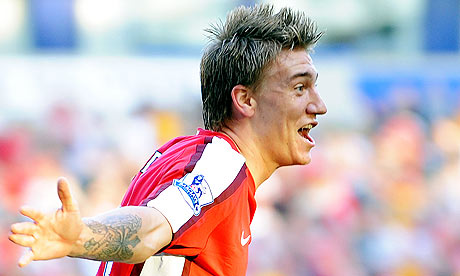 "In about three years, I will be better than Zlatan. He is older than me and has now reached his peak as the top scorer in Serie A – but I have a plan, I believe in it and I am ready. Next season, I can finally make my breakthrough and then I still have two years to become better than Zlatan – and I will. By then I will be close to my peak and will be able to look upon myself as one of the world's greatest strikers."- Nicklas Bendtner.
There is much to dislike about Bendtner. From his stupid pink boots to his porcupine haircut, splashed with a heavy dose of misplaced arrogance to boot, Bendtner seems to encapsulate many of the negative stereotypes linked to the modern footballer. And now the Danish loudmouth has attempted to whip up local Scandinavian politics by taking a pot-shot at the region's leading footballer, Zlatan, claiming he will eventually prove to be even better than the Swedish striker who is currently on the top of his game.
We beg to differ Nicklas. And by reducing himself to his own one-man-cheer-squad Bendtner comes across as yet another over-paid footballer with a super-size ego.
To illustrate our point of how far apart these footballers are at present, we can bring you the video evidence of how each Bendtner and Zlatan performed over the course of the 2008/09 season.
Video evidence of Nicklas Bendtner season-that-was can be seen here, while highlights of Zlatan's impact over the course of the last year can be seen here.
---