Are Spurs lining up Mark Hughes to replace "lame-duck" Ramos
Comment & analysis round-up
Quote of the day: "If Wesley had called me he would have been welcome. We could have had a fine talk. But I am amazed about the way Wesley handled it now. What is the use of such a talk if before it you tell the media and the audience what your problem is? I had expected more class and personality from him. Real personalities don't need a magazine or newspaper to make their point clear. We could have talked about it in the hotel, after the match, if needed also during breakfast. During the reign of Marco van Basten I was always the man who could take a free-kick. At that point I had as much right as Wesley to take the free-kick. You can check that with the national team coach." – Robin van Persie goes public over his argument with Wesley Sneijder over a free-kick taken, and missed, by the Arsenal forward during the Euro 2008 quarter-final defeat against Russia.
Runner-up: "Just to be mentioned in the same breath as the likes of Dalglish, Rush and Fowler makes the hairs stand up on the back of my neck because everyone knows what they mean to this football club. It's a fantastic achievement and it's one that I'm really proud of because no one needs me to tell them of all the great midfielders that have played for this club. But I doubt many of them managed to play as many games as I have and I've also played quite a few up front as well. There's no doubt about it, though, it does mean a lot to me." – Steven Gerrard.
Today's overview: The breaking news story this morning is delivered by Ian McGarry, who splashes with news that "Spurs officials contacted Sparky's advisors yesterday to offer him the job hours before Manchester City's UEFA Cup tie with Omonia Nicosia."
Joe Kinnear's sweary outburst at his Newcastle press conference is commented on by The Times' George Caulkin – "In one regard the 61-year-old had a point; passing judgment on him is premature, given that the match away to Everton on Sunday will be his first in charge. And yet the wider context is damning; whether he likes it or not, Kinnear is the public face of Mike Ashley's regime."
Playing on the same theme, Rob Smyth brings his "Joy of Six" of the most volcanic managerial spats with the media, while Steve Anglesey compiles his list of "When Managers Go Mad: the top 10 foul-mouthed outbursts from football bosses."
On footballing issues at St. James' Park, more confusion reigns today as Mike Norrish pours cold water on the South African bid. Yet the picture is blurred by Michael Walker, reporting "on another day of claim and counter at Newcastle United, the South African consortium interested in buying the club reportedly submitted an offer of £280m-£300m."
Several scribes are still delivering their reactions from the midweek Champions League action. After reaching his amazing personal milestone of 100 Liverpool goals, Tim Rich believes that Steven Gerrard is fast becoming Liverpool's own Bobby Charlton. Andy Townsend asks "What has Wes Brown done to upset Fergie?," while Brown is also the focal point for Tony Cascarino, who while offering sympathy concludes that "Football is a ruthless business, it's about getting what you can when you can, and his decision to stay may have backfired." Lastly, on Celtic's miserable away record in the Champions League, Barry Glendenning asks "Why does an away win remain a Hoop dream?"
In the best of the rest, Ann Gripper celebrates the behaviour of Shaun Wright-Phillips and Ian Pearce, who have shown that they'd prefer to play football rather than cashing cheques, Steven Wells writes an impassioned defence of referee ("If these so-called experts are really good enough to rate a referee's performance, why aren't they out there refereeing?"), Fabrizio Miccoli is mooted for a recall to the Italian national team by Antonio Labbate, and Bild.de report the distasteful story coming from Scotland of Celtic fans who are betting on the life expectancy of Paul Gascoigne.
The Sun's Ian McGarry splashes with an EXCLUSIVE straight out of left-field, claiming that Spurs are lining up Mark Hughes to be their next manager. "Spurs officials contacted Sparky's advisors yesterday to offer him the job hours before Manchester City's UEFA Cup tie with Omonia Nicosia. They slapped a £20million, five-year deal on the table and would love the Eastlands chief to take over during next week's international break. Spurs chairman Daniel Levy decided to act after concluding Spaniard Ramos is now a lame-duck manager."
Following Joe Kinnear's incredible outburst at his debut press conference, The Times' George Caulkin explores how "Kinnear made a belligerent and expletive-strewn attempt to reclaim his authority as the club's interim manager." "In one regard the 61-year-old had a point; passing judgment on him is premature, given that the match away to Everton on Sunday will be his first in charge. And yet the wider context is damning; whether he likes it or not, Kinnear is the public face of Mike Ashley's regime at a club who are up for sale, who have a paper-thin squad and a team who are next to bottom of the Barclays Premier League and whose fans are in revolt."
Rob Smyth (Guardian) brings his "Joy of Six" of the most volcanic managerial spats with the media. "Liam Brady v various reporters Anyone who has seen RTE's peerless football coverage will know that Liam Brady is prone to the occasional cathartic wobbler when Eamon Dunphy goes off on one. But this was on another level entirely: after his Brighton side had drawn miserably with Canvey Island in the FA Cup in 1995, Brady was in such a volcanic funk that he treated even the most mundane questions about football like they were as frivolous an enquiry as "What colour pants are you wearing today, Liam?" or "Dani Behr or Louise Nurding?" (Well it was 1995.) Brady couldn't escape the interviews fast enough, and in one he reached a nadir by uttering the Brentish phrase, "If my granny had balls she'd be my grandad", before marching off and giving the interviewer the lamest shove ever. Dunphy would have finished the job properly."
Similarly, the Mirror's Steve Anglesey compiles his list of "When Managers Go Mad: the top 10 foul-mouthed outbursts from football bosses." "Fergie defends Veron Questions about a reported airport bust-up between Juan Sebastian Veron and Manchester United team-mates following their 2003 Champions League semi-final exit at Bayer Leverkusen didn't go down well with Sir Alex Ferguson. "People are always going on about f****** Veron. You tell me, what's wrong with Veron?" fumed Fergie. "What's this thing about fights and all the rest of this s***? It's absolute nonsense, you know it's nonsense. Absolute lies. On you go. I'm no f****** talking to you. He's a f****** great player. Yous are f****** idiots."
On the takeover of Newcastle, more confusion reigns today as Mike Norrish (Telegraph) pours cold water on the South African bid. "Dismissing media reports of his involvement in a so-called 'Bok consortium', Johann Rupert said: 'These reports have never been true. It's utter nonsense.' Various reports yesterday claimed Rupert, South Africa's richest man, was part of a five-strong South African group that had tabled a £300 million bid for Newcastle. Seymour Price, the company employed by owner Mike Ashley to handle the sale of the club, denied they have received a formal offer, and Rupert's stance now suggests the South African consortium is not the frontrunner some reports have indicated."
Yet according to the Independent's Michael Walker, the Bok consortium is in full flow. "On another day of claim and counter at Newcastle United, the South African consortium interested in buying the club reportedly submitted an offer of £280m-£300m. No sooner had that been apparently confirmed, however, that sources close to Seymour Pierce, the investment bank commissioned by Mike Ashley to sell Newcastle, said that no formal bid had been received… Other business figures named alongside Rupert are Brian Gilbertson, Vivian Imerman and Brian Joffe. Simon Clifford, once close to Juninho at Middlesbrough and promoter of Futsal in Britain, is offering football advice. Clifford had a short period at Southampton as Clive Woodward's assistant and is manager of Garforth Town. Clifford is expected to have a role at the club if the South Africans take over. Among some financial observers, going public at this time in the process is unusual and to some it has placed a question mark against the South Africans. Privately the Nigerian consortium insists it is still competitive."
After reaching his amazing personal milestone of 100 Liverpool goals, Tim Rich (Telegraph) believes that Steven Gerrard is fast becoming Liverpool's own Bobby Charlton. "Probably no footballer since Sir Bobby Charlton has so regularly scored so many great goals from outside the area. Gerrard's record of 100 for Liverpool in just over 400 games compares with the 249 Charlton scored for Manchester United in 758 appearances. And Charlton, like Gerrard a modest, introspective man, spent most of his career playing in a more free-scoring game and often wore the number nine on his back for United. Graeme Souness, the outstanding midfielder of the Bob Paisley years, found the net once every six and a half matches. Gerrard averages one in four. What is astonishing about Gerrard's record is that he did not begin his Liverpool career with a reputation as a goalscorer. He made his first start, against Tottenham, in December 1998 but it was fully 12 months before he scored his first goal for the club, against Sheffield Wednesday."
In the Daily Mail, Andy Townsend gives a round-up of his observations from this week's action in the Champions League. "What has Wes Brown done to upset Fergie? He sat it out on the bench on Tuesday while United selected Rafael instead. Could it be that Wes harshly copped the blame for that dreadful goal at Anfield when his goalkeeper punched it against his own defender?"
On Manchester United, Tony Cascarino (The Times) also offers sympathy for the forgotten man, Wes Brown. "Exactly what Brown had feared has happened. Neville, the old-timer, is on the premises again and Da Silva, the South American tyro, is breathing down his neck. Brown's loyalty, his willingness to re-sign for the cause, has apparently been overlooked or conveniently brushed aside. He faces a season of frustration at Old Trafford, not to mention what it might do to his England chances. It's a real kick in the teeth for Wes. Critics go on about disloyal, money-grabbing and utterly self-centred footballers – and, often, they are not wrong – but, in this case, Brown seems to have been extremely hard done by. Football is a ruthless business, it's about getting what you can when you can, and his decision to stay may have backfired."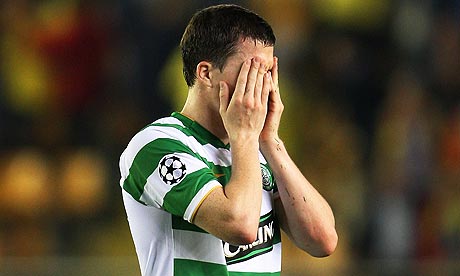 On Celtic's miserable away record in the Champions League, Barry Glendenning (Guardian) asks "Why does an away win remain a Hoop dream?" "Celtic's run of defeats on the road in the Champions League proper now extends to a toe-curling 17 out of 18, with just a draw against Barcelona several years ago going some small way towards hiding their shame. While reverses at the Madrigal, Nou Camp, San Siro (x3), Allianz Arena, Stadio Delle Alpe and Old Trafford are not disgraceful, the law of averages suggests eight matches at such imposing venues should have yielded more than a solitary point. Elsewhere in Europe, defeat after defeat at the hands of eminently beatable teams such as FC Copenhagen, Lyon, Shakhtar Donetsk (x2), Porto, Rosenborg and the perennially hopeless Anderlecht give every indication there's a lot more to Celtic's appalling run than a paucity of quality among the club's ranks."
In the Mirror, Ann Gripper celebrates the behaviour of Shaun Wright-Phillips and Ian Pearce, who have shown that they'd prefer to play football rather than cashing cheques. "On Fulham's books last year, Pearce dropped 11 divisions to turn out for Surrey South Eastern Combination First Division with Oxted and District FC. After years spent playing in front of thousands, turning out in front of 150 people must be a surreal experience – perhaps even more so than for those teams from the lower leagues who get their day out at Anfield or Old Trafford. While an FA Cup glamour tie is the fulfilment of a dream, playing alongside sales reps, graphic designers, machinists and postmen, as Pearce is now doing, is a glimpse of the kind of life he could have had if his footballing gene had been slightly less well developed. After a summer spent following the efforts of Emmanuel Adebayor, Dimitar Berbatov and Cristiano Ronaldo looking to wangle their way to a bigger contract at another big club, it was a real antidote to find a case where it is so obviously a desire to keep playing football – rather than the money – that is the motivation for running out onto the pitch with your team mates."
The Guardian's Steven Wells writes an impassioned defence of referees. "So on both sides of the Atlantic and across dozens of sports the consensus is reached. The referee is a useless, interfering, grandstanding bastard. And the sooner we replace him entirely with machines incapable of mistaking a mistake, the better. And the consensus sucks. Would an orchestra be better conducted by a metronome? I for one am sick of hearing ex-players (who couldn't referee a kids game) telling us that "the ref's having a good game", or a poor game, or a nightmare. If these so-called experts are really good enough to rate a referee's performance, why aren't they out there refereeing? Keeping fit and active in the game they keep telling us they love? Rather than earning a dodgy crust getting fat and old while trotting out the same half dozen or so well polished opinions. (If I hear the phrases "he won't be happy with that" or "he'll be thinking" one more time, I shall scream.)"
Fabrizio Miccoli is mooted for a recall to the Italian national team by Football Italia's Antonio Labbate. "The Palermo bomber has enjoyed a scintillating start to the season. With four goals in four games, he's the new darling of the Barbera faithful who were forced to inevitably say goodbye to Amauri over the summer. But while the Brazilian waits for his Italian passport, Fabrizio already has his paperwork in order… So why shouldn't Lippi consider him? The walking tattoo parlour [he has 13 so far] – who has named his son Diego in honour of Maradona – is arguably in better shape right now than Alex Del Piero, while the tactician still seems to have doubts over the complex character of Antonio Cassano."
Bild.de report the distasteful story coming from Scotland of Celtic fans who are betting on the life expectancy of Paul Gascoigne. "Supporters of Scottish club Celtic – the bitter rivals of Rangers, a club Gazza once played for – have invented a sinister betting game when participants can guess the time of his death. The game appeared on the 'Huddleboard' website after the latest lurid story involving Gazza, who once took centre stage at World Cup 90 and Euro 96, reported that he had drunk a bottle of whiskey for breakfast. The British 'Daily Star' newspaper published some of the bets being taken: Benedicts11 wrote: 'I give him three months,' while MartyBhoy believed it would be 'nine months'. AyrshireCSC said: 'On the Queen's birthday. They can both go. What a day that would be!'"
---
GAMBLING CAN BE ADDICTIVE, PLEASE PLAY RESPONSIBLY