Are Liverpool still going to sign Gareth Barry?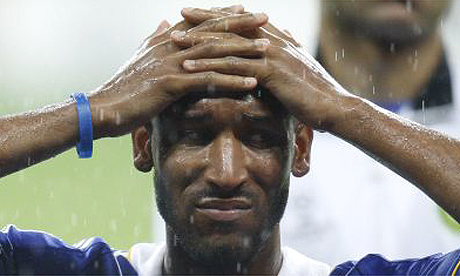 Comment & analysis round-up
Quote of the Day: "Scolari understands me better than Grant because I have never played on the right or the left since I have come to England. It was a difficult time because you know when you come to a new club, you want to play in your position and you want success. It's just good for me to play up front. I played in midfield, on the right or the left. So I am happy to play again in my position and I will try my best on the pitch… For John [Terry], [losing the Champions League final] was hard, but he is a big player at Chelsea. I was new, so for me it was more difficult. I was not part of the competition at the beginning and I didn't play in my position when I arrived at Chelsea – I would play for maybe five or ten minutes. I am still thinking about it now because it's always hard to miss a penalty, but even more when you didn't play as much as you wanted in the competition." – Nicolas Anelka.
Runner-up: "We're all absolutely delighted that Gareth will be staying at Villa Park and relieved to find a resolution and closure to the saga. We had a very positive meeting on Monday when it was agreed between Gareth, his agent [Alex Black], Mr Lerner and myself that a deadline should be communicated to Liverpool to finally resolve the situation. Liverpool were informed and that deadline came and passed. Now we can all look forward to the coming season with relief, anticipation and ambition." – Martin O'Neill.
Today's overview: Gareth Barry's future, despite the seemingly unequivocal quotes from Martin O'Neill, is still in doubt this Thursday, as the papers offer contradictory reports on the status of the transfer.
Putting their necks on the line are Neil Moxley and Simon Jones, who splash with the headline "Liverpool and Villa finally agree £19m deal for Gareth Barry as England star secures his Anfield move in part swap with Finnan." Such claims are supported by Stuart James, arguing that Barry will "force the issue" with MON, while Ian Winrow stirs the pot by also claiming the deal is not dead.
Other rumours circulating over Barry's future include Ian Herbert's suggestion that Arsenal may now snap up the midfielder, Peter Lansley and Ian Winrow report that new contract terms should ensure Barry's continued employment at Villa and Shaun Custis claims Liverpool were 15 minutes late in trying to buy Gareth Barry.
Tottenham's capture of David Bentley is also reviewed. Gary Payne whips up local rivalries saying "Bentley has been told he will be one of the most hated men in North London." Highlighting the lack of fire-power up-top, Henry Winter calls the move "great news for Spurs and England and bad news for Aaron Lennon and David Beckham." Matt Barlow adds his two cents, claiming "Andrei Arshavin and Roman Pavlyuchenko will be the next recruits to sign up for the Tottenham revolution."
The leftover domestic articles include Sam Wallace who focuses on Arsenal's new signing Amaury Bischoff ("Werder nobody signs for Arsenal"), Wayne Veysey reports on how Bendtner and Carlos Vela outshone Emmanuel Adebayor last night against Stuttgart, Graham Lister chews over Robbie Keane's move to Liverpool ("Will Keane prove to be the piece that has been missing for so long at Anfield?"), and Paul Parker tears into Newcastle for taking back Joey Barton.
Finally, Gregory Sica reviews the Argentina squad ("Argentina's Olympic squad looks a whole lot like its full, FIFA No. 6-ranked senior national team") ahead of the Olympics.
Despite Aston Villa's clear statement claiming that Gareth Barry is staying in the Midlands, the Daily Mail's Neil Moxley and Simon Jones splash with the headline "Liverpool and Villa finally agree £19m deal for Gareth Barry as England star secures his Anfield move in part swap with Finnan." "Sportsmail understands that the mix-up was due to a deadline being missed by 20 minutes, and the transfer will finally be concluded on Thursday… Barry had been due to play in a behind-closed-doors friendly against Notts County on Thursday – but his name was subsequently withdrawn. And it also appears that the England midfielder has already committed himself to renting a house in Cheshire."
Stuart James (Guardian) also claims the Liverpool deal is not dead, saying "Liverpool were in the process of putting together an £18m deal for the England international." "The club say there is no chance of the situation changing, although it appears unlikely that Barry, who has made no secret of his desire to move to Anfield, will concede defeat. Indeed it is anticipated that the midfielder, mindful that Liverpool can now meet Villa's valuation, will hold discussions with O'Neill today in an attempt to force the issue. He may even submit a transfer request, something he has not felt the need to do hitherto."
Ian Winrow (Telegraph) stirs the pot by also claiming the deal is not dead. "Liverpool are believed to have increased their bid to all but meet Villa's requirements, offering £17 million plus full-back Steve Finnan, and thought a deal was close before a dispute over the amounts to be paid up front and in instalments proved to be the sticking point. The Merseyside club remain hopeful that having progressed so far with the protracted negotiations, it seems highly unlikely that the deal is dead, particularly as Barry himself remains adamant he wants to move to Anfield."
The Independent's Ian Herbert also argues that Gareth Barry may not be a Villan come the start of the season, but Liverpool may not be his final destination. "Barry is now resigned to start the new season in the Midlands, with Arsenal the only club likely to meet his desire for Champions League football and willing to pay Villa's asking price."
The Times' duo of Peter Lansley and Ian Winrow report that new contract terms should placate Barry's continued employment at Villa. "Barry, who has two years remaining on his present contract, is set to be rewarded with a 50 per cent pay rise to about £70,000 a week in a new deal that is likely to include a get-out clause that could lead to him leaving for a vastly reduced fee should Villa not meet mutually agreed targets. After ten years at the club, he will be reinstated as captain and can arrange a testimonial as he concentrates on leading Villa into the Uefa Cup next month."
The Sun's Shaun Custis offers the lo-down on how Liverpool were 15 minutes late in trying to buy Gareth Barry. "They had agreed to pay £18m but there was haggling over the methods of payment and Liverpool asked for a small deadline extension. Villa chief Randy Lerner refused and, even though Liverpool had everything in place by 5.15pm, Villa would not negotiate further. Barry is determined to play Champions League football and Arsenal could now renew their interest with a player-exchange deal."
Moving on to David Bentley's move to Spurs, The Sun's Gary Payne whips up local rivalries saying "Bentley has been told he will be one of the most hated men in North London. The ex-Arsenal trainee, 23, has risked the wrath of all Gunners fans by becoming only the fifth player to cross the divide to sign for arch rivals Tottenham, which he did yesterday in a £17million deal."
Henry Winter (Telegraph) analyses Tottenham's £17 million capture of David Bentley, plus their lack of a striker. "Bentley's move is great news for Spurs and England and bad news for Aaron Lennon and David Beckham… Deployed occasionally and successfully in the hole by former Rovers manager Mark Hughes, Bentley is expected to operate on the right for Ramos. Giovani dos Santos has occupied the left in pre-season, although the Mexican prefers the centre. Luka Modric is most likely to feature through the middle behind a target man… Yet Spurs could be starting the season crammed with attractive approach players such as Bentley and Modric, but no line-leaders or serial finishers. Darren Bent, for all his four goals against Norwich City on Monday, is not good enough. David Villa is a promising option, but the Spaniard is not a line-leader in a 4-5-1 formation. The favourite to join Spurs, Andrei Arshavin, whom the club have been invited to bid for by Zenit St Petersburg, is an elegant dribbler but not an out-and-out centre-forward like Fernando Torres or Didier Drogba."
The Daily Mail's Matt Barlow makes the sensational claim that Spurs are about to land two Russian stars, unequivocally stating "Andrei Arshavin and Roman Pavlyuchenko will be the next recruits to sign up for the Tottenham revolution after David Bentley's transfer from Blackburn neared completion on Wednesday night… As the finishing touches were being put to the Bentley deal, Spurs were on to their next business, a £34m twin raid on Russia, with fees agreed of £19m for Arshavin and £15m for Pavlyuchenko… A deal has also been struck for Spartak Moscow's Pavlyuchenko, Arshavin's strike partner in the Russia side, and it is hoped that will make it easier for them both to settle in London… The arrival of Pavlyuchenko indicates Spurs are ready to sell Dimitar Berbatov to Manchester United or elsewhere for over £30m. He didn't even make the bench in a friendly at Leyton Orient last night."
Sam Wallace (Independent) reports on Arsenal's new signing, Amaury Bischoff. "As leftfield signings go, this has the potential to be Wenger's greatest coup yet, on the proviso that Bischoff turns out to be as good as the Arsenal manager hopes he is. While Wenger has often cast his net wide in order to sign players from Africa and South America, this particular player has come from very close to home. Bischoff's father is French, from Alsace to be precise, which is the region where Wenger grew up as a child in the post-war era… Few escape the eye of Wenger and his scouts, however, and Bischoff, who can play in the centre of midfield or on the right, has a good chance of figuring this season with Gilberto Silva and Mathieu Flamini already departed. His age means that he can no longer be considered one of the kids, certainly not by Arsenal's standards – he is 35 days older than Cesc Fabregas."
Staying with Arsenal, Wayne Veysey (Telegraph) reports on how Bendtner and Carlos Vela outshone Emmanuel Adebayor last night against Stuttgart. "Adebayor looked lethargic and heavy-legged during his first Arsenal appearance in 2½ months, and was withdrawn at half-time, along with his senior strike partner Robin van Persie, who was also playing his first pre-season match. Arsene Wenger's first-choice front pair were put in the shade by their replacements, the towering Nicklas Bendtner and the impressive Mexican teenager, Carlos Vela."
Graham Lister (Goal.com) chews over Robbie Keane's move to Liverpool. "Will Keane prove to be the piece that has been missing for so long at Anfield as they hunt down that elusive first title since 1989-90?… Presumably Keane will compete with players like Ryan Babel and Dirk Kuyt for a starting place, although at £20million-plus he is unlikely to spend a lot of time on the bench. He will either partner Torres in a traditional two-pronged spearhead, or play off the Spaniard's shoulder in a four-man attack."
According to Ian Herbert (Independent) Manchester City, after signing Tal Ben Haim, are now focusing attention on buying a striker. "Mark Hughes, the Manchester City manager, who secured the services of central defender Tal Ben Haim for £3m from Chelsea yesterday, will now set about his bigger spending priorities: tempting Blackburn with a £15m bid for striker Roque Santa Cruz, and securing an experienced goalkeeper to take on some of Joe Hart's workload. Fulham's Antti Niemi is a realistic contender."
Paul Parker (Eurosport) tears into Newcastle for taking back Joey Barton. "Joey Barton should not have been allowed to return to Newcastle football club. It is as black and white as the shirt he will once again pull on this season – Newcastle are making a huge mistake in taking him back in. Barton is a serial offender. He has proved it time and again, both at Manchester City and now at Newcastle. Some say he deserves a second chance to prove he is a reformed character, that he is capable of behaving himself on and off the pitch, and that he deserves to retain the privileged status of a Premier League footballer. But what about a third chance? Or even a fourth? Where is the line drawn?"
Following the news that Lionel Messi will play for Argentina at the Olympics, Gregory Sica (SI) reviews the Argentina squad ("Argentina's Olympic squad looks a whole lot like its full, FIFA No. 6-ranked senior national team") and picks out Diego Buonanotte as one-to-watch. "One of the squad's three home-based players who are destined to make their mark is River Plate's insanely talented 20-year-old Diego Buonanotte. The 5-foot-2 attacking midfielder was voted the MVP of River's championship run last season, and is keen to impress in what will be his first major international tournament."
Click here for more Premier League betting tips
---