APPALLING: Villarreal fined just €12,000 for racism directed at Barcelona's Dani Alves [Best Tweets]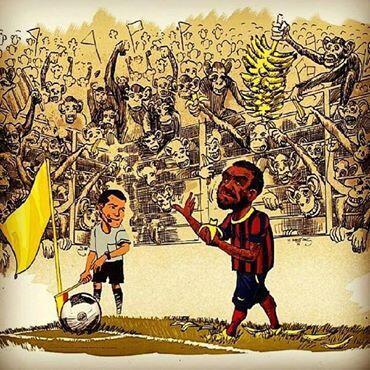 You've gotta be joking, right?
The Spanish FA have finally reacted to the banana thrown by a Villarreal fan at Barcelona's Dani Alves, however the punishment for the racist behaviour was pathetic.
Instead of sending out a stern message that such behaviour has no place with football, Villarreal have been fined just €12,000 for the racist actions of their supporters.
Many had been hoping that Villarreal would not only receive a heavier fine, but also many had expected that they would be served with a punishment that would have seen part of Villarreal's El Madrigal stadium closed.
Sadly that's not happened.
Below are the best tweets commenting on the tame fine imposed on a Villarreal after one of their fans threw a banana at Dani Alves.
Man City for breaking FFP -£50,000,000 fine Villarreal racially taunting Dani Alves – £10,000 fine #UEFALogic

— BBC Sporf (@BBCSporf) May 7, 2014
People trying to compare Villarreal fine to Man City fine. Because we should bankrupt a club over actions of a few idiots.

— Paul Anderson (@Pander88uk) May 7, 2014
Villarreal fined 12,000 euros…that it? And we wonder why racism persists. A 12k fine laughs in the face of 'zero tolerance'.It's an insult

— James Masters (@Masters_JamesD) May 7, 2014
€12,000 fine for Villarreal spits in the face of tackling racism. A full stadium closure for home team would hit fans harder. #bbcfootball

— Gary Richardson (@iamgary_r) May 7, 2014
Villarreal fined 12,000 euros after a fan threw a banana at Barca's Dani Alves. Not much of a deterrent then

— Ed Aarons (@ed_aarons) May 7, 2014
---