Anelka hits back on Facebook at his FA quenelle charge, argues a French Jewish expert says it's not anti-Semitic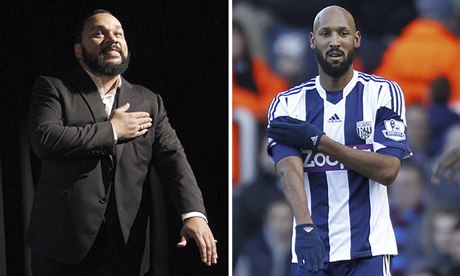 Nicolas Anelka has vented on Facebook on Wednesday afternoon.
Anelka was charge by the FA on Tuesday for making the gesture quenelle against West Ham, which is widely considered to be anti-Semitic.
The 34-year-old is also accused of an "aggravated breach" of the regulations because it is claimed the gesture "included a reference to ethnic origin and/or race and/or religion and/or belief".
Should Anelka be found guilty of the charge, the French striker faces a possible minimum five-game ban under the FA's anti-discrimination sanctions.
Anelka has until 6pm on January 23 to respond to the FA charge officially, but in an amazing twist on Wednesday, the striker has posted a statement on his Facebook page in French.
Anelka claims "I am neither anti-Semitic nor racist", whilst also claiming that "Mr. Cukierman, president of CRIF (Conseil Représentatif France Jewish Institutions), has explained it very clearly that my quenelle could not be considered to be anti-Semitic!"
Anelka's Facebook claim comes a day after he went on Twitter to link to a video of Mr. Cukierman taken by Le Figaro, with the tagline "Nothing to add".
In the video Roger Cukierman, the head of Representative Council of French Jewish Institutions and vice-president of the World Jewish Congress, said the quenelle is only anti-Semitic when it is performed at a Jewish site and feels a possible five-game ban for Anelka seems "a bit harsh".
Read Nicolas Anelka's Facebook post in French, and with a Bing translation, below, together with the interviewof Mr. Cukierman.
---
GAMBLING CAN BE ADDICTIVE, PLEASE PLAY RESPONSIBLY