Along with Newcastle, now Spurs & Portsmouth are subject to takeover speculation
Comment & analysis round-up
Quote of the day: "The discussions are at a preliminary stage. But the investor is a billionaire and views Spurs as perfect because of the profile of the club and the fact that they are in London. This last point is very important." – Pini Zahavi.
Runner-up: "I can't think of any [other] team in the world who ask you to play against the likes of Dimitar Berbatov, Wayne Rooney, Cristiano Ronaldo and Carloz Tevez, yet we were doing okay and had had the best chance of the game. But unfortunately to that four you had to add Rob Styles… It just sticks in the throat that when last season finished and people talked about diving, feigning injury, goalline technology, what do we come up with? 'Respect for the ref.' There will be more respect if he [Styles] holds up his hands and says he's made a big mistake." – Gary Megson.
Today's overview: The Sundays could be confused with the classifieds this morning, with Spurs, Portsmouth and Newcastle all apparently subject to takeover bids which would once again shake-up the equilibrium in the Premier League.
Jamie Jackson gives the lo-down on the mooted Spurs takeover rumours by an Asian billionaire, while Rob Beasley reports that Pompey owner Alexandre Gaydamak wants to cut his loses and is even prepared to "sell Portsmouth for an initial £20million."
As has been customary in recent weeks, Newcastle take up a sizable amount of column inches throughout the papers. On the positive side, Rob Beasley claims that a South African group are the latest party to throw their hat in the ring. But that is where the good news stops.
Duncan White reports on the latest farce at Toon which sees Joe Kinnear banned for two matches for calling a referee "Coco the Clown" back in 2004. Paul Wilson wonders why Newcastle opted not to put Dennis Wise in charge of the club. And the snooty Mail on Sunday take Newcastle to town for their appointment of the former crazy Gang boss.
Reacting to the Merseyside derby, Phil McNulty salutes Fernando Torres while assessing Liverpool's title credentials, while Paul Wilson criticises David Moyes' tactics in his post match report for the Observer.
Steve Tongue interviews Cesc Fabregas for the Independent on Sunday, to talk about the emerging talents at the Gunners. But not everyone is getting carried away, the Mirror on Sunday's Brian Reade tempers the excitement over Arsenal's new crop of talent remembering that three years ago "Fabrice Muamba was proclaimed the new Patrick Vieira." It is left to Trevor Haylett to sing the praises of Hull, commenting "The Lehman demise was easier to predict than this collapse of an Arsenal team."
In a refreshingly honest article, David James writes about what life has been like at Portsmouth in the last two games: "Before the Man City game, Michael Owen texted me to say I'd better play well because I'm in his fantasy league team. After the game I texted him back to say he'd better sell me."
In other Premier League news, Steven Ireland and City's young-guns are featured by Joe Lovejoy, Patrick Barclay, reviewing a spate of poor decisions, argues that the FA is in danger of losing all respect, Hugh McIlvanney points the finger of blame both at the Premier League and West Ham's Scott Duxbury in the Carlos Tevez affair, while in a new approach to the technology in football debate Stephen Brenkley argues it may soon be a decision between TV refs or lawyers in the dugouts.
In other news, Kevin Mitchell leads the charge against FIFA for their feeble punishment handed out to the Croatian FA for racism directed at Emile Heskey, Andrew Jennings comments on Sepp Blatter's appointment of Aussie Frank Lowy to the governing body's inner circle and what this may mean for England's 2018 World Cup bid and lastly Susy Campanale offers little sympathy to Jose Mourinho, who has got off to a difficult start with the Italian media.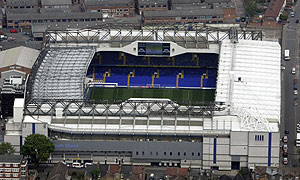 Jamie Jackson (Observer) gives the lo-down on the mooted Spurs takeover rumours. "Joe Lewis's Enic investment group has been the majority owner of Tottenham since 2001. There has been talk of a sale recently, and a buyer would expect to pay £300m-£400m for the club. Asked if Spurs are actively seeking a seller, a spokesperson said last night: 'No. But as a plc if any bid is submitted then it had to be put to our shareholders.' Lewis, 61, who lost £400m after the collapse of American investment bank Bear Stearns, owns more than 80 per cent of the shares."
Next up for sale are Portsmouth, Rob Beasley (NOTW) reporting that owner Alexandre Gaydamak wants to cut his loses and is even prepared to "sell Portsmouth for an initial £20million. Pompey's Russian owner has put the cash-strapped Premier League side up for sale in a bid to avert a full-scale financial crisis. The FA Cup holders owe a staggering £60m and fear a £25m loss this season alone. The Fratton Park club's accounts are now dominated by a wage bill that swallows up almost £60m of the club's annual turnover of just over £65m. That is a stunning 90 per cent of Portsmouth's income, which leaves precious little left to run the South Coast club."
There are more takeover rumours surrounding Newcastle, Rob Beasley (NOTW) claiming that a South African group are the latest party to throw their hat in the ring. "The group would pay £350million to oust Ashley. Amazingly the billionaire could even benefit from an auction after a Nigerian consortium launched their own bid on Friday. But the British-based South Africans are confident they are in pole position with their track record of reviving ailing global brands. A spokesman said: 'We are serious about Newcastle, we believe they are an iconic institution who deserve to be run professionally.' The five-man South African consortium has drawn up legal papers and has contacted brokers Seymour Pierce — the firm Ashley has put in charge of selling the Tyneside club."
In the Sunday Telegraph, Duncan White reports on the latest farce at Newcastle which sees Joe Kinnear banned for two matches for calling a referee "Coco the Clown" back in 2004. "The first game he can actually take full charge of is against Manchester City on Oct 20, by which time the club could well have been bought and his services dispensed with. He may never actually sit on the bench as Newcastle manager… The ban dates back to an incident on Nov 27, 2004, when Kinnear verbally abused the referee in Nottingham Forest's game with Gillingham, not Rotherham as Kinnear remembered. The club were informed that the ban was still in force on Friday. 'I don't think the club knew about it,' Kinnear admitted."
The Observer's Paul Wilson wonders why Newcastle opted not to put Dennis Wise in charge of the club. "One wonders why Ashley did not put Wise in temporary charge. If the club are sold, the job description of the executive director (football) is likely to be altered anyway. The fans would not have been happy, but they are not exactly thrilled at the moment. Their only hopeful scenario is a quick sale to serious owners, leaving Ashley to escape back to anonymity and the buyers to evaluate the managerial structure. In the worst-case scenario Newcastle hang around like cheese at fourpence and Ashley becomes the living embodiment of an old cautionary tale. Want to know how to make a small fortune out of football? Start off with a massive one."
The Mail on Sunday, once again looking down on the nation from their high horse, take Newcastle to town for their appointment of Joe Kinnear, while also seeking to rewrite the Crazy Gang's history. "At this stage, even the terminally daft Ashley must have realised that Wise should have taken over until new owners could be found. But Wise has a rat-like cunning which makes him aware of popular vibrations. He knows that the Newcastle public hold him in contempt and that they would no more tolerate him as manager than they would sanction their side turning out in red and white stripes. So Den and his paymaster turned to Kinnear. He was the playing partner and professional disciple of Venables and he shared with Wise an extended association with Wimbledon, perhaps the crudest, most cynical, least-loved football club in the history of the English game."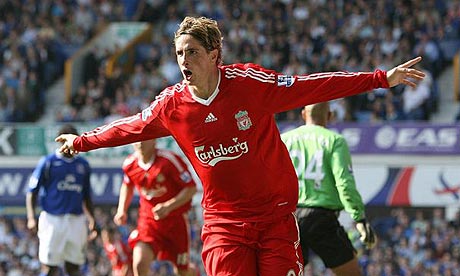 The BBC's Phil McNulty salutes Fernando Torres while assessing Liverpool's title credentials. "Liverpool have not hit top gear this season, and there have been too many false starts to announce yet that this is the campaign in which they will finally seriously challenge for their first championship since 1990. This, however, was a ruthlessly efficient display illuminated by the brilliance of Torres in the last half-hour. If this display is the catalyst for him to repeat his devastating form of last season, then his own confidence in Liverpool's title aspirations might be justified. He believes if Liverpool are around the top of the table in January or February they can go on to win the league – but talk is cheap and so often their hopes have fizzled out in the face of the superiority of Manchester United, Chelsea and Arsenal."
Paul Wilson criticises David Moyes in his post match report for the Observer. "Results do not tell the whole story though and the feeling persists that Moyes has only himself to blame for not winning more games against big clubs. He left Louis Saha on the bench here at the start and sent out his team with five midfielders and Yakubu on his own up front, a strategy that looked more like an attempt to avoid defeat than secure victory, especially as the solo striker seemed unhappy in the role and wasted much of his limited service by flinging himself to the floor in search of free-kicks. Referee Mike Riley booked him for diving in the second half after he had beaten Martin Skrtel and got himself into a position where a shot at goal might have brought a better reward. All too predictably, Moyes decided to send Saha on when Everton went a goal down, but by the time the substitute took the field the home side had shipped another and the cause was lost."
Steve Tongue interviews Cesc Fabregas for the Independent on Sunday, to talk about the emerging talents at the Gunners. Fabregas: "Confidence in football is so important, you can see it's really 80 per cent in your mind. You can have the talent but if you don't have the head, you go nowhere. Theo's the same player but he has 300 times more confidence, and that makes a really big difference. He makes his runs and knows when to pass and when to dribble. Soon as he does that 100 per cent, he'll be in three years one of the best players in the world… [Jack Wilshere is] a serious guy, he doesn't talk a lot but he knows what he wants and he isn't scared of anything. I really like that. Fran Merida I saw in the academy at Barcelona and he's a tremendous player too. They all get on really well with each other, they go out together and that really helps."
The Mirror on Sunday's Brian Reade wants to temper the excitement over Arsenal's new crop of talent. "After Tuesday, Arsenal insiders claimed Jack Wilshere was the new Liam Brady and Carlos Vela the next Lionel Messi. Wenger hailed this current crop as "the greatest generation" and Cesc Fabregas says there is nothing that they cannot achieve. And they may be proved correct. But that's what people said three years ago, when Fabrice Muamba was proclaimed the new Patrick Vieira. What was he doing last Saturday? Struggling so badly at The Reebok that Gary Megson hauled him off for Ricardo Vaz Te. Now that's what I call perspective."
Yet it is impossible to talk about Arsenal this Sunday without mentioning their defeat to Hull, Trevor Haylett (Sunday Telegraph) summing up the Tiger's incredible achievement. "The Lehman demise was easier to predict than this collapse of an Arsenal team who have been scoring for fun in the league and with the kids in the Carling Cup. Yet Phil Brown's Trojans deserve all the plaudits coming their way as two splendid goals rewarded a brave and honest performance. For too many years we have become used to promoted sides setting foot in the backyard of the elite with trepidation. Hull employed two strikers, gambled on using Geovanni in the hole and claimed their due reward."
David James writes a full and frank op-ed in the Observer about what life has been like at Portsmouth in the last two games. "Ten goals conceded in two games, where can I start? It has been a difficult week. Losing 6-0 against Manchester City was the heaviest defeat of my league career, and it hurt. The word 'embarrassment' was used around the dressing room – I don't easily get embarrassed, but to roll over in a match like that is poor. Our pride was badly dented. After a defeat like that people are subdued. All you can do is lick your wounds and prepare for the next game. Some players like to get over the disappointment by thrashing themselves, hitting the gym and running off the anger and aggression. But we barely even had time for that with the midweek game against Chelsea in the Carling Cup. Before the Man City game, Michael Owen texted me to say I'd better play well because I'm in his fantasy league team. After the game I texted him back to say he'd better sell me."
Steven Ireland, along with City's young-guns, are featured by Joe Lovejoy in the Sunday Times. "Arsenal's reserves may be good but that is all they are just now – promising reserves. Vela, Ramsey and Merida are not about to displace Adebayor, Van Persie and Fabregas week in, week out, whereas Ireland plays alongside Micah Richards, Michael Johnson, Nedum Onuoha, Ched Evans and Daniel Sturridge, all "home-grown" in the Premier League. Shaun Wright-Phillips can be added to the list, having been nurtured by City before going to, and returning from, Chelsea. Hailed as City's best player throughout August and September, Ireland is typical of the production line, yet at the same time a singular character who was warned by the FA last season after exposing his "Superman" underpants (he had been egged on by Martin Petrov) and whose career with the Republic of Ireland came to a premature end after he excused himself with one dear, departed grandmother too many. At that stage, six caps had produced four goals, including the first scored at Croke Park in Dublin, but a year on he says he does not miss international football and has no intention of returning to the Irish fold."
Patrick Barclay argues that the FA is in danger of losing all respect in The Sunday Telegraph. "When, last season, the game finally woke up and resolved to act against dissent and general nastiness — as in the rudeness towards referees of, among others, Ashley Cole — one of the reasons given was that fewer and fewer people were willing to step on the refereeing ladder for fear of abuse. We could see the sense in that; and there was the perennial exemplar of rugby. But, instead of imposing a policy of zero tolerance on the top players and relying on a trickle-down effect, the FA listened to the fatuous view of elite referees — in other words the very people whose passivity in the face of insolence had allowed the problem to grow — that they would prefer to "manage'' dissent… it shows how daft things have become when some referees are trying to get involved in debates that, if they really cared about the game, they would facilitate afterwards in the interests of all."
The Sunday Times' Hugh McIlvanney reexamines the Carlos Tevez affair, pointing the finger of blame both at the Premier League and West Ham's Scott Duxbury. "By shirking the obligation to deprive them of points, the Premier League lifted the lid on a snakepit of potentially dire consequences and the full poisonous extent of the threat implicit in their dereliction of duty is now becoming plain… When the League permitted West Ham to go on using Tevez it was on the strict condition that they would instantly and totally rescind the third-party agreement with Kia Joorabchian, who had brought the Argentinian to London. But the tribunal adjudicating the dispute involving Sheffield United has established that West Ham's present chief executive, Scott Duxbury, while publicly insisting there had been compliance with the order to annul, was secretly making oral pledges to stick to the sleazy pact."
In a new approach to the technology in football debate as Stephen Brenkley (Independent on Sunday) argues it may soon be a decision between TV refs or lawyers in the dugouts. "The trouble, as administrators must fear, is that if games, especially football, refuse to acknowledge the idea of the telly ref soon, they make themselves a hostage to fortunes for lawyers. Sooner or later – and, considering so much time has already elapsed, probably sooner – football will go to law to have a result or an outcome overturned. In a way, without technology being involved, it has already happened: an independent tribunal last week decided that West Ham United unfairly kept their Premier League status two seasons ago at the expense of Sheffield United. By fielding Carlos Tevez, whose transfer was ineligible, West Ham gained at least three extra points to which they were not entitled… There is a sense of foreboding about the thought that Terry and his ilk may cut out the middle men by merely having their brief sitting in the dug-out."
Kevin Mitchell (Observer) leads the charge against FIFA for their feeble punishment handed out to the CRoatian FA for racism directed at Emile Heskey. "This was a £14,500 slap – which sounded more when announced in Zurich as 30,000 Swiss francs. What was called for was a good clout. Fining the governing body the equivalent of a player's daily wage will do nothing to deter Croatia's racists, who have been carrying on this way (in the manner of some England fans over the years, in fact) at least since France '98."
Keeping with FIFA matters, Andrew Jennings (Sunday Herald) comments on Sepp Blatter's appointment of Aussie Frank Lowy to the governing body's inner circle, and what this may mean for England's 2018 World Cup bid. "England's hopes of hosting the 2018 World Cup have suffered a setback with president Sepp Blatter appointing the controversial billionaire leader of Australia's rival bid to Fifa's prestigious World Cup organising committee. There are no British members on the 31-man committee overseeing the next tournament in South Africa, but it includes members from America and China, also potential bidders. The choice of Frank Lowy, 77, president of Australia's federation and the world's biggest shopping mall owner, to join Fifa's inner circle, is hard to fathom. He has never been a player in Fifa politics but has entertained some of its leaders on his 242-foot yacht Ilona, one of the world's largest."
Ahead of the Milan derby, Susy Campanale (Football Italia) offers little sympathy to Jose Mourinho, who has got off to a difficult start with the Italian media. "Mourinho can stop moaning about media pettiness when he has finished stirring up controversy with that insufferably smug look on his face. Even today he responded to Ranieri's suggestion not turning up to a post-match Press conference showed 'a lack of respect' for the journalists by deriding the former Chelsea Coach's grasp of the English language. 'I studied Italian five hours a day for many months to ensure I could communicate with the players, media and fans. Ranieri had been in England for five years and still struggled to say 'good morning' and 'good afternoon.' Who is he to tell me what to do?' That won't hit any headlines or prompt questions about respect and arrogance, will it? If Mourinho wants us all to focus on the football, he might want to zip it and try to get Inter playing something other than simple counter-attacks."
Best football betting tips & free bet offers
Click here for more Premier League betting tips
---