After calling Arsene Wenger a "specialist in failure" Jose Mourinho is the butt of most jokes after Man City 2 – Chelsea 0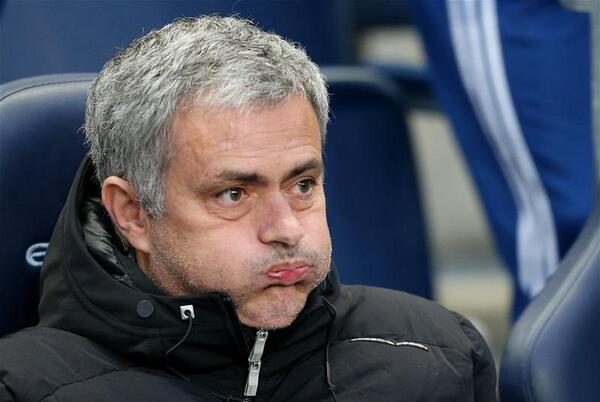 On Friday, Jose Mourinho stoked up his long term rivalry with Arsene Wenger, by calling the Arsenal boss a "specialist in failure".
It seemed an unnecessary attack on Wenger since Chelsea were playing Manchester City at the Eithad in the FA Cup on Saturday.
So, when Chelsea were outplayed at the Etihad on Saturday, going down 2-0 to Manchester City, it mattered not a jot that the Blues are top of the Premier League and that they had beaten Manuel Pellegrini's side twice already this season.
Jose Mouinho got it from all sides on Twitter as the "specialist in failure" line came back to haunt the Special One just over 24 hours after he had spewed his bile to the lapdog English media.
Below are the best Tweets, taking the mickey out of Jose Mourinho.
And, lest we forget, Arsene Wenger has won more FA Cups than Jose Mourinho…
Mourinho on Wenger "He is a specialist in failure, I am not" pic.twitter.com/PLwIwijiST

— Vishal Mistry (@official_vishal) February 15, 2014
Wengers reply to Mourinho. pic.twitter.com/K37KiR1ko9

— JDM. (@JDiMarca) February 15, 2014
Jose Mourinho – a specialist in FA Cup failure.

— Piers Morgan (@piersmorgan) February 15, 2014
@Etihad_Stadium hehehehe

— agus arifin (@ai_fin) February 15, 2014
Hope the irony of Chelsea failing to turn up after Mourinho's 'specialist in failure' nonsense is not lost on him. Suspect it will be though

— Darren Norris (@Denmania) February 15, 2014
I pray that a reporter/interviewer asks Mourinho about Chelsea's "failure" in the FA Cup this season. It'd make my life complete.

— Prësidënt Özil (@ArsenalPorVida) February 15, 2014
Anyone fancy a sweep on how many Mourinho Specialist In Failure headlines tomorrow?

— John Cross (@johncrossmirror) February 15, 2014
Letting Man City win the quadruple, that's failure… #Mourinho

— Manhei Chan (@manhei) February 15, 2014
Specialist in failure > Jose Mourinho

— Piers Morgan (@piersmorgan) February 15, 2014
Manchester City knocks Chelsea out of the FA Cup, posting a 2-0 win. Somewhere, Arsene Wenger pumps his fist and flips Jose the bird.

— Ives Galarcep (@SoccerByIves) February 15, 2014
---