Adnan Januzaj's representatives ask Man United for £100k signing-on fee [Daily Star Sunday]
The Sunday papers need selling and there is a couple of days break before the next World Cup qualifiers so it can only mean Adnan Januzaj returns to the back pages tomorrow.
After Januzaj announced himself with a two-goal haul at Sunderland, to secure the Manchester United Premier League win, just a week ago, the 18-year-old is still out of contract at the end of the season.
Januzaj's international future has been widely speculated upon recently, but it appears Manchester United are still no closer to coming to an agreement on keeping the Belgian/Albanian/Kosovan at Old Trafford.
The Daily Star Sunday report that Januzaj's representatives are looking for a £100,000 signing on fee to ensure he rejects the advances of Barcelona, Bayern Munich and Juventus to stay at Manchester United.
In addition, Januzaj's representatives are looking for £20,000 a week for the young winger with Manchester United willing to pay him £15,0000.
This seems a long way off some of the figures that were bandied about over the past week (£30-50,000) and with the way some of Manchester United's wide-men have been performing this season, does not seem outrageous at all.
And, whilst the signing-on fee for a player that is already at the club may be excessive, can Man United really afford to lose another youngster in the manner of Paul Pogba or Ravel Morrison?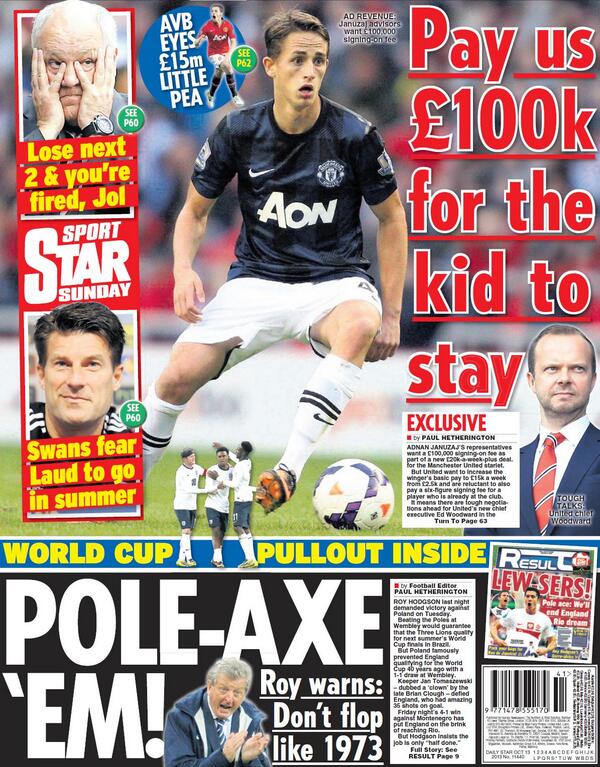 ---