Adnan Januzaj's brilliant two-goal haul for Man United at Sunderland [The best Tweets]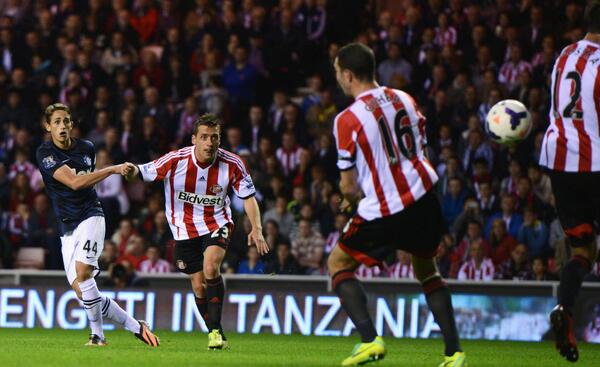 Adnan Januzaj: Remember the name!
After some fine pre-season performances and excellent cameos in 2013/2013, Adnan Januzaj announced him to the world on Saturday with a sensational brace for Manchester United at Sunderland.
1-0 down, the goals on 61 and 62 were huge for David Moyes who needed someone to step up and the 18-year-old stood up when it counted.
Expect to hear much about Januzaj's unsigned contract at Manchester United in the coming days…
Predictably, the Januzaj hype went through the roof during the Manchester United win over Sunderland – best Tweets are below.
2 – Adnan Januzaj is the second Man Utd player to score twice on their first PL start for the club (after Ruud van Nistelrooy). Prospect.

— OptaJoe (@OptaJoe) October 5, 2013
1-2: Adnan Januzaj (18-242) is the YOUNGEST player to score 2x for #MUFC in a #PL match. He beats CRonaldo, Rooney and Giggs. #epl

— Infostrada Sports (@InfostradaLive) October 5, 2013
Dream debut for Januzaj, what a talented player he is. Three tremendous goals this week for him

— Doron Salomon (@DoronSalomon) October 5, 2013
Adnan Januzaj has done more in 60 minutes than Ashley Young has in his whole Manchester United career.

— Football Jokes (@LaughingFooty) October 5, 2013
Adnan should be paid at least what Anderson spends on cheeseburgers.

— AmplifiedtoRock (@AmplifiedtoRock) October 5, 2013
Interesting that Januzaj has refused to play for Belgium's youth sides previously. Wonder if he'll change his mind given their current squad

— Chris Lepkowski (@chrislepkowski) October 5, 2013
@ManUnitedYouth pic.twitter.com/VNSMxRfnhI

— Sean Rooney #⃣2⃣0⃣ (@sean4646) October 5, 2013
I said it a while ago, Januzaj has little bit of Cruyff in him.

— Janusz Michallik (@JanuszESPN) October 5, 2013
Speaking with Roy in the office there is a possibility Januzaj could qualify to play for England from 2015.

— Gary Lineker (@GaryLineker) October 5, 2013
Absolutely amazing that Adnan Januzaj's contract is not sorted.

— 101 Great Goals (@101greatgoals) October 5, 2013
Incredible. Football's latest sensation is a player who still has to show his ID if he wants to buy Grand Theft Auto games. #Januzaj

— Danny Baker (@prodnose) October 5, 2013
---