Adios Barca! Spanish press hail the end of an era for the Catalans & Tata Martino after Granada loss [Pictures]
After being kicked out of the Champions League last week and then losing 1-0 at Granada in La Liga on Saturday nigh, is it over for Barcelona?
The sense that an end of an era at the Camp Nou is dawning is solidified across some of the papers in Spain on Sunday as two leading dailies go with "Adios Barca!" as their front page splash.
SPORT are the biggest doom and gloom merchants, blacking out the front page of their Sunday paper with the headline "Adios Barca! Adios Tata! Adios…"
A similar theme is played out on the more colourful front page of AS. They also go with the headline "Adios Barca!" whilst featuring an image of despairing Lionel Messi with his hand on his forehead.
The picture of Messi looking forlorn also appears on the front page of Marca, however the Madrid-based paper take a slightly different angle by contrasting the Argentine's miserable pose to an image of Gareth Bale flashing his heart-sign goal celebration having scored for Real Madrid in a 4-0 win over Almeria.
See how the Spanish media are claiming it's all over for Barcelona after losing 1-0 at Granada below.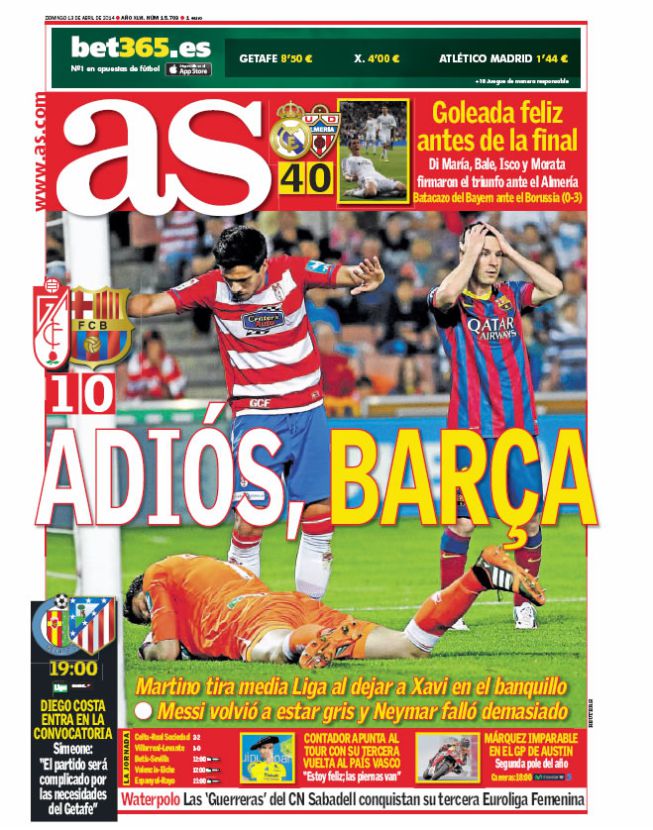 ---